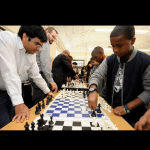 2017 CSR Awards
Community Affairs
Your Move: Ascension Empowers Ferguson Youth Through Chess
Events in Ferguson, Missouri, catapulted the Ferguson community into the international spotlight as a symbol of racial tension. After seeing friends, colleagues and neighbors affected by civil unrest, Ascension felt compelled to make an investment in Ferguson schools to help young people move forward in a positive way.
Headquartered in St. Louis, Ascension explored ways to make a meaningful investment and restore kids' faith in their community and their schools. Ascension is committed to supporting underserved communities as part of their core mission.
One executive's visit to the Chess Club and Scholastic Center of Saint Louis created the inspiration for Ascension to make a difference. Partnering with the Chess Club, Ascension reached out to the Ferguson-Florissant School District to propose a free after-school program in each of the district's 20 elementary and middle schools. The goal was to give young people a place to grow academically and socially—all in a safe, nurturing environment.
Ascension committed to making the "Your Move Chess" program available to students and to track students' progress through an initial baseline survey and post-program survey to determine if goals were being met. The Chess Club and Ascension worked with researchers from area universities to gauge the effectiveness of the after-school chess program for participating students.
At the close of the initial ten-week program, the survey showed a dramatic impact, with 85% of students looking forward to school more on days when they participated in the Chess Club and 95% reporting that learning chess made them want to challenge themselves more in the future. Still in its infancy, the program already has served more than 250 students, while creating a tighter bond for Ascension with the community.
Based on the tremendous response to the "Your Move Chess" program from students, teachers and the community, Ascension is continuing the program in Ferguson. Ascension associates recently came together and raised over $100,000 from the community to expand the program. A number of national and local media outlets highlighted the success of the "Your Move Chess" program.
Honorable Mentions:
Aurora Health Care - Better Together Fund
Burson-Marsteller and BVK - CITGO Caring for Our Coast
Food Lion Feeds - Year Two
Honeywell - Hometown Solutions & Operation USA - Ngolos Elementary School
Honeywell - Hometown Solutions & Safe Water Network India - Telangana
Mastercard - Girls4Tech