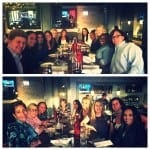 2017 Social Media Awards
Best Social Media Team
PwC Social + PR Team
The PwC Social + PR team has helped its traditional, 120-year-old professional services brand "let its hair down" on social media, especially through the use of live video platforms. PwC was the first of the "Big 4" accounting firms to use Snapchat Live, Facebook Live and Instagram Stories.
With each broadcast, PwC aims to provide a cutting-edge view of its people and events through raw, real and in-the-moment footage. For example, the team has used Snapchat to highlight key findings from PwC's annual holiday shopping report through the lens of a "hipster," a millennial parent and a pet lover. PwC has used Facebook Live to take followers through behind-the-scenes tours at entertainment and media industry events coast to coast.
This year the team collaborated with rapper and influencer Dee-1 on a corporate responsibility initiative related to financial literacy for students called Earn Your Future. Rapper Dee-1 joined PwC at schools and universities across the U.S. to talk about student loan debt and financial literacy. He took over the PwC social media handles, including Snapchat, bringing his significant fanbase to PwC's channels.
Each year the firm takes a day to celebrate PwC Promotion Day to recognize employees who have been promoted. This is typically an internal initiative, and one that gains little traction externally. This year on PwC Promotion Day, the team coordinated a Snapchat story with over 20 different offices in cities across the U.S. Socially savvy employees, identified as Snapchat Ambassadors, were trained to contribute to a cross-country Snapchat story. This effort more than tripled PwC's followers on Snapchat, led to the PwC team's highest story view count of 2,400, received over 208 screen grabs and 250 direct snaps and won 922 mentions of the hashtag #PwCPromotion Day on Twitter—all in one day.
Honorable Mentions:
BSN SPORTS
Cisco Talent Brand Team - WeAreCisco
CLS Strategies
Coldwell Banker Real Estate
Hawkins International Public Relations
Klick Communications
maurices Social Media + PR Team
People for the Ethical Treatment of Animals
Smarty Social Media