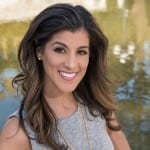 PR News recently asked its community to tell us who should be listed among the top game-changers of PR in the last few years. Here, we look at game-changer Nicole Rodrigues. Check out the complete list of the 50 Game-Changers of PR for 2017.
Nicole Rodrigues decided to forge her own path.
Her PR journey started in 1999, when she worked for enterprise tech companies in Silicon Valley before graduating San Jose State University. After graduation, she joined the NFL in 2003, where she served as a public relations intern (as well as cheerleader) with the Oakland Raiders.
After a 13-year career that included stints with Demand Media (now Leaf Group) and Voce Communications, Rodrigues founded Beverly Hills, Calif.-based NRPR Group in 2014. The firm has grown to include clients such as Heal, MobiTV, Thesis Couture, DARPA and Impact Theory, to name a few.
Rodrigues' dedication to the PR industry prompted her to create and host PRfect Pitch, a national radio show featuring interviews with media experts and top agency CEOs. She also created PRactical Guide to Publicity, an award-winning educational video series devoted to teaching C-suite executives about the importance of implementing robust PR strategies.
Not limiting her star power to just radio and video, Rodrigues is also a contributor to Forbes Magazine and has been published by many industry publications, including PR News, PR Daily and Adweek's PR Newser.
But her dedication to education doesn't stop with the PR industry. In 2017, Rodrigues launched NRPR Group's corporate social responsibility program, Make It Happen. As part of the program, she visits schools in Los Angeles and her native Bay Area to educate students on the importance of setting personal goals and putting in the hard work necessary to achieve them.
Her media savvy is one of the hallmarks of her firm. At NRPR, Rodrigues utilizes a careful, personalized editing process for each client, making sure every media pitch is pitch perfect. As a result, in the history of NRPR Group, there hasn't been a month when a client didn't receive coverage.
Most Interesting Fact Not Found on Nicole's Resume
"I'm the oldest of nine children and all of my siblings are millennials. I tell people, one of the reasons I've been able to lead a crew made up of mostly millennials is because I've been leading people in that generation my whole life. I've discovered that leading by example and creating an environment where people feel motivated and appreciated are all keys to creating effective teams that get the job done."
Nicole's Advice to Her 20-Year-Old Self
"Don't give up. You've got this. Focus and keep honing your skills. Your gut is right. Don't doubt yourself because everything you want to do and everything you see for your career, you will accomplish."
Nicole's Profession in an Alternate Universe
"I'd love to run a motivational camp for kids that teaches about how to deal with life's ups and downs constructively, so we create better, more well-adjusted adults in this world. Not sure if that's an actual profession but I'd like to make it one, someday."