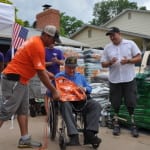 2017 Nonprofit PR Awards
Social Media
MSLGROUP – Celebration of Service: #ServiceSelfies Create Independence at Home for U.S. Veterans
The Home Depot Foundation's 2015 Celebration of Service #ServiceSelfie campaign increased the program's reach on social channels with more than a million social actions to raise $1 million for nine veteran-focused nonprofits. It made 638,000 social media connections and donated the $1 million to veteran causes through 21,671 #ServiceSelfies, 506,000 Facebook Engagements and over 1 million social actions.
The Home Depot Foundation, the philanthropic arm of the world's largest home improvement retailer, is focused on improving the homes and lives of U.S. military veterans and their families. Team Depot, the company's associate-led volunteer force, activates year round, with a concentrated effort during Celebration of Service, a two-month volunteer campaign.
In Celebration of Service's fifth year, MSLGROUP launched the #ServiceSelfie social giving campaign to engage consumers, associates, nonprofit partners and media nationwide.
Participants were encouraged to celebrate service in their own communities, and The Home Depot Foundation committed to donating $1, up to $1 million, for each social media action. Actions included sharing a #ServiceSelfie on Twitter or Instagram or liking, commenting or sharing one of nine weekly Team Depot Facebook posts honoring nonprofit partners that serve veterans. The program was promoted through outreach to select media and influencers with mailers, which invited them to be honorary Team Depot members and armed them with Team Depot selfie sticks to share their own #ServiceSelfie.
The campaign reached 10 million people online with compelling, veteran-focused content—a 529% increase compared with average growth.
Honorable Mentions:
919 Marketing - College Foundation of North Carolina FAFSA Day
National Council for Behavioral Health - #NatCon16 Twitter Ambassador Program
WorldVentures Foundation - #HeartToServe