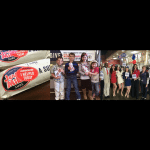 2017 CSR Awards
Cause Branding Campaign
Jersey Mike's Subs – Month of Giving
Jersey Mike's Subs Month of Giving campaign is an annual month-long fundraising campaign benefiting local charity partners (schools, hospitals, youth organizations and more) across the country, culminating with Day of Giving, wherein 100% of sales go to the organizations.
In its sixth year of the campaign in 2016, Jersey Mike's was determined to exceed previous fundraising results by streamlining the program's operations and focusing on national and local marketing efforts.
Month of Giving raised money throughout March. Customers selected $1, $3 or $5 donation tear-off sheets located near the cash register—or donated an amount of their choice. On Day of Giving, the last Wednesday in March, every restaurant donated 100% of that day's sales (not just profits, but every single dollar that came in) to charity.
Working with corporate, each market secured a charity partner (in some cases, multiple charities) that resonated with the local restaurant owners. Some owners selected charities for a three-year partnership so the relationship could build each year. Jersey Mike's created a new commercial, "Month of Giving: Help Nourish, Help Flourish," that aired across the country during March. National radio buys also supported the effort and the team secured an additional 14,000 added-value spots around the fundraiser.
Messages were sent using Jersey Mike's email club, text messaging and social media (Twitter, Instagram, Facebook), with the campaign team posting and engaging with customers and charities mentioning the fundraiser (#JerseyMikesGives). The company created a special Month of Giving webpage with charities linked to store locations in each market.
The 2016 Month of Giving was the most successful and biggest fundraiser in the company's history by all measures, as $4 million was raised for 180 local charities across the U.S., a 33% increase over 2015. Nearly $3.4 million of the total was raised in one day—on March 30, the Day of Giving.
Honorable Mentions:
Amway - The Power of 5 Million Nutrilite Little Bits
Cracker Barrel Old Country Store - Operation Rocker: Cracker Barrel's Summer Salute to Military Families
Creation - Pizza Hut Changes The Story with Pizza Hut: The Literacy Project
M Booth - That Ship Hasn't Sailed: Carnival Cruise Line's Honor. Family. Fun.
MetLife - Multipliers of Prosperity
PJ Lhuillier Group of Companies - Sports Advocacy Campaign
SPN Communicatons - KFC Footbattle: International Youth Festival of Active Lifestyle Season 2016