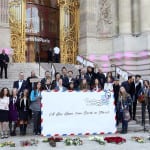 2017 CSR Awards
Media Relations
Havas PR – Earth To Paris: A Global Movement for Bold Planet Action
It was time to send a message from Earth To Paris—and that message needed to be as big, loud and beautiful as possible. Led by the United Nations Foundation, a unique and powerful coalition of more than 110 NGOs and corporations together launched the Earth to Paris campaign in October 2015.
Why? At the end of the year, a historic climate agreement would be finalized at the UN Climate Change Conference (COP21) in Paris that would affect us all. The Earth To Paris coalition scheduled its social media surge and two-day summit, Earth To Paris—Le Hub, in Paris during these negotiations to showcase climate solutions and innovations and to sound the foundation's call for strong climate action.
The campaign encouraged ordinary people from every inhabited continent to have a voice and a seat at the table in December 2015 with policymakers attending COP21. PR efforts, led by the Havas PR Global Collective, were aimed at reaching people through a groundswell of media attention, knowing that secured coverage would supplement Earth To Paris' objectives and, most importantly, influence the world leaders who would be gathering in Paris to finalize a new climate agreement.
In the month leading up to COP21 and the Earth To Paris–Le Hub summit, Havas PR North America and Havas Worldwide Paris worked closely together and with the United Nations Foundation to create global media lists; to draft, translate and issue press releases and an FAQ; and to proactively pitch and brief media (about the movement itself and also about big happenings, like Morgan Freeman's participation in an #EarthToParis video produced by GOOD).
In addition, the Havas team invited media to attend the Earth To Paris–Le Hub summit and provided support for the event, which took over the Petit Palais and assembled a mix of media, key influencers and politicians—including Oliver Morton, briefings editor of The Economist, who moderated a panel.
The #EarthToParis hashtag was a huge hit in its own right. A major global trend on Twitter both days of the summit, it hit nearly 1 billion impressions and was mentioned in an NPR story about hashtags that made a mark in 2015.
Honorable Mentions:
Anthem Foundation - Ranking Our Healthiest Cities with the American Fitness Index
JetBlue - Imaginations Take Flight with JetBlue's Soar with Reading Initiative
MSLGROUP - #FreeToWalk For The Allstate Foundation Purple Purse
MSLGROUP for The Home Depot Foundation - Celebration of Service: Creating Independence at Home for U.S. Veterans
RF|Binder - CVS Health Kicks Butts in Partnership with Campaign for Tobacco-Free Kids
Vodafone - #BeStrong Anti-bullying Emojis