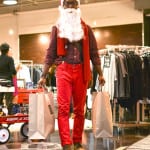 2017 Nonprofit PR Awards
PR on a Shoestring Budget
Goodwill Industries of the Southern Piedmont – Werkin' the GW Look Helps Put People to Work
Goodwill is not a brand that is shopped by millennials. The sweet spot for Goodwill is women, specifically moms, of a median age of 59. According to the latest market research conducted by Goodwill Industries International in 2010, a mere 21% of millennials between the ages of 18 and 24 are Goodwill shoppers.
So when Goodwill learned that Charlotte Center City Partners was offering "free" storefront space for one week only in Uptown's EpiCentre, they jumped at the chance to test the younger, urban market.
From there, Goodwill depended on a network of highly-followed Charlotte-area influencers to give it credibility among its target audience, to help others look at Goodwill differently and to drive shopping in its space—setting a goal of $20,000 in sales.
To motivate this demographic to notice Goodwill—with a limited $10,000 marketing budget—Goodwill needed a strategy to show up everywhere: their Facebook, Twitter and Instagram feeds, on Yelp, news outlets, local coffee spots and the trendiest shops.
With limited budget, Goodwill invested in a targeted digital advertising campaign that included a mix of targeting areas. When shoppers walked through the doors, they were greeted by "hipster Santa" – a skinny-jeans-and-suspenders-wearing Santa offering props for the Instagram photo booth including mustaches and ironic messages such as, "Please leave coconut milk at the fireplace" and "My sleigh is environmentally-friendly."
Goodwill also enlisted three influential style bloggers to pull together head-to-toe looks for under $25 and under $50. Goodwill photographed them, and they posted the photos to their social media channels and blogs the day the store opened. Marketing dollars were also used to give away free candy to create a unique experience and a call to shop.
With a sales goal of at least $20,000 for a one-week period, Goodwill exceeded that goal by 86% with $37,207 in sales.
Through social posts generated by media and attendees of the media event, GW achieved an estimated total reach of 479,360 on social media. And thanks to the overall success of the campaign, Goodwill opened a permanent location in west Charlotte in June 2016.
Honorable Mentions:
Havas PR - Rebranding the Teaching Profession in Arizona: Tucson Values Teachers with Southern Arizona Leadership Council
Idaho Transportation Department - Innovate ITD
Indiana University Health - IU Health Hoosier Heroes
National Association of Insurance Commissioners - Tough Tasks Made Easy
National Hydropower Association - UnlockHydro
Plaza Jewish Community Chapel, Inc. - Shabbat Candle Lighting Time Announcement
St. Baldrick's Foundation - 'Kids Are Special' Campaign