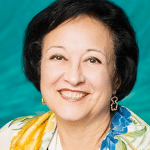 Gloria Rodriguez is a leader, a visionary and a risk-taker.
The founder, president and CEO of Comunicad, LLC, hasn't shied away from any of the challenges of starting and growing her own business, fearlessly bringing change to the PR industry by targeting multiracial audiences instead of the one-size-fits-all approach of many agencies.
Gloria is the recipient of Gallup's most prestigious leadership award—Visionary Leader for the 21st Century. She's also the founder of the National Latino Children's Institute and co-founder of the Natural Hispaña Leadership Institute. Gloria was also appointed to the first advisory board of Inter-American Development Bank.
Gloria understands that consumers care about what companies support. She believes vehemently in corporate responsibility efforts because they result in wins all around—for the company, for those in need and for consumers. She uses her belief in giving back and her vision for the industry as motivation and inspiration to enact change in the industry and in consumer habits.
A forward thinker and a willing, talented mentor, Gloria understands how to build a foundation and broaden existing relationships between new audiences and her clients, showcasing a distinct ability to lead and inspire.
Most Interesting Fact Not Found on Gloria's Resume
I am a strong advocate for animals, particularly dogs. Dogs are an important part of any family so it's critical that we value the love and support they bring into our lives. My chief dog in charge is Napoleon (Napo), a certified and licensed service pet. Especially during the recent natural and humanitarian disasters, we must remember to do what we can to save and rescue our pets and, during times of crisis, be prepared to provide them with the same unconditional love and support they give us.
Gloria's Advice to Her 20-Year-Old Self
Looking back on the decisions I made that impacted my life, I would advise myself to compete with my own intelligence in ways where I will keep learning and growing mentally and spiritually. It's also important to be selective about the advice you receive—not everyone has the credibility, experience or goodwill to give you helpful feedback. Take your time before giving anyone "BFF" status. I can say that you really get to know people only when you experience enough of life's ups and downs with them.
Even more important, always be true to yourself. You don't have to always move on a forward path. Risks and detours are OK, they are a part of life. Don't be fearful of life or worry about things you can't change. Instead, change the things you can. Whenever you get there you will be OK.
Gloria's Profession in an Alternate Universe
In my lifetime, I dress-rehearsed for all the different roles I could possibly have wanted to portray which are reflective of my talents and skills. I wanted to be in the theatre, and I was. I wanted to perform modern dance, and I did. I wanted to be a writer so I went into TV news production and excelled in information sharing. I wanted, more than anything, to control and create my own destiny so I started Comunicad, a multicultural public relations firm dedicated to corporate social responsibility. I will admit that it has taken me years of struggle and hard work to do what I have done. In all I have done, I would go back to dancing because I can give people something they can carry within them forever.