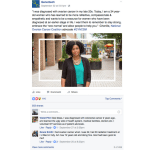 2017 Social Media Awards
Facebook | Best Promoted Post
Genentech & Weber Shandwick & FleishmanHillard – Genentech's Cancer Awareness Month Patient Photo Series
September is recognized as gynecological and blood cancer awareness month; October is well-known as breast cancer awareness month. As a company that has been developing medicines for people with serious or life-threatening diseases for 40 years, Genentech understands the impact a disease like cancer has.
Together with Weber Shandwick and FleishmanHillard, Genentech wanted to come up with a way to showcase its long-term commitment to people living with gynecological, blood and breast cancers. Genentech's primary goals for achieving heightened awareness were to celebrate the survivors, demonstrate their strength and perseverance and show social media that there are people and organizations out there willing to help and provide support—and most importantly, patients are not alone in their journey.
Genentech also wanted to celebrate the work that their advocacy organization partners do for those affected by cancer and give them a chance to be featured as a resource for people who may not know what these groups offer. Genentech used Facebook as the primary catalyst for delivering this information and showcased the patient voice on a platform where people felt comfortable interacting within this established social community. The team worked to tell one story across the different awareness months that would leave a lasting memory for the user.
The hypothesis was that putting a human face to the various disease states and telling genuine stories paired with emotive photography would expand the reach of the messaging to a larger audience, elevating people living with disease, physicians and caregivers. The use of a singular style of photography, accompanied by quotes and messages from cancer survivors, provided genuine, consistent content and exhibited internal alignment across teams working together toward a main goal.
Over the course of the two month campaign period, 11 Facebook posts generated nearly 77,000 combined likes, more than 3,700 shares, over 2,300 comments and reached an estimated 897,000 people. This content also produced the highest engagement ever on a single post for a Genentech-owned channel, at over 11,000 likes.
Honorable Mentions:
Liquid Interactive - Mack Shop Holiday 2016
Live Nation Entertainment - Guns N' Roses Reunion Tour: Facebook Canvas Announce Campaign
MAPR.agency - Shelby American Collection Video
Monterey County Convention & Visitors Bureau - Hiking in Monterey County
Schneider Electric - Pick Your Power Trip
Silverton Casino Hotel - Poke Draft