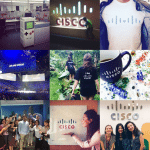 2017 Social Media Awards
Instagram | Best Marketing Campaign
Cisco Talent Brand Team – WeAreCisco
The WeAreCisco Talent Brand Team jumped into the Instagram pool in the summer of 2015 because they had one objective—to make personal connections with future talent. To do that, they wanted to showcase employee-generated photos that tell the story about what it's like to work at Cisco. Employees are encouraged to post on their own Instagram channels using hashtag #WeAreCisco (reaching a network larger than any Cisco could reach as a brand).
The team designed campaigns like #IChoseCisco and #LoveWhereYouWork to make it easier for employees to share their photos and Cisco stories, and encouraged them to tag #WeAreCisco to possibly be featured on the @WeAreCisco page. Cisco also created a group of ambassadors who were just as keen on Instagram.
Once Instagram Stories became a part of the platform, the team quickly developed a strategy to include consistent posting, a plan to share employee stories beyond just one image, and have it be a stand-alone element for Cisco's Talent Brand.
To help employees know it's OK to share their Cisco stories on Instagram, the team created a series of trainings to help employees understand Instagram better and what Cisco was looking to share on this channel, and also included an entirely separate training on the elements of photography and how to take a great picture.
In FY 2015, Cisco's goal was 1,000 followers with strong engagement. It doubled that starting FY 2016 with 2,500 and three to five times industry engagement. In FY 2016, its goal was 10,000 followers, and Cisco beat that one as well with 12,000. Cisco ended the calendar year of 2016 with 15,000 followers, all of whom are organic as Cisco has never paid for followers.
Honorable Mentions:
Sparkloft Media - Alaska Airlines "Weekend Wanderer" Campaign
UCLA Health Digital Marketing - People of UCLA Health