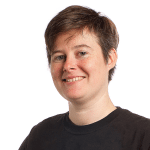 2017 Social Media Awards
Digital Leader of the Year
Bex Young, Manager of Social Media for World Wildlife Fund
Bex Young, manager of social media for World Wildlife Fund (WWF)—the world's leading conservation organization—is responsible for WWF's growing social media presence, robust social editorial calendar and community management refinement.
Since Young started at WWF in 2013, her work has put the organization at the forefront of social media innovation and engagement across channels.
In addition to WWF's continuous social media growth on Facebook and Twitter, Instagram has emerged as a dominant platform, growing from just over 9,000 followers in March 2014 to nearly 750,000 followers today, all thanks to Young's leadership and platform strategy management.
Under Young's strategic guidance, WWF developed content to engage climate activists and social followers during the 22nd UN climate talks—otherwise known as COP22—in late 2016 across Facebook, Twitter, Instagram and Snapchat.
WWF took advantage of two new opportunities to reach a wide online following and a new, younger demographic of climate activists by using the Facebook Live broadcast studio at COP22 and becoming an official content partner with SnapChat for their COP22 story.
On the Facebook platform specifically, Young leveraged a strong partnership with Facebook to run live interviews at COP22 on a variety of key topics and themes.
Broadcasts with key experts were viewed by 23,000 people; additional segments on outcomes from COP22 were viewed 19,000 times and reached over 160,000 people.
2016 also brought the world together for the Summer Olympics in Rio, and while WWF did not promote the Games overall, Young capitalized on this moment in time to showcase some of WWF's conservation work related to the Amazon.
Young played a key role in developing an Amazon landing page on WWF's website, an Amazon animal quiz, an opening and closing ceremony video and social media memes that showed how athletic species can be. The campaign ran across all social media channels. On Twitter, WWF tweeted 22 times using #rio and was retweeted an average of 56 times per tweet. In addition, its top tweet, sharing the welcoming video, was retweeted 134 times. The closing ceremony video reached 241,979 people on Facebook and the top post on Instagram was liked nearly 14,000 times.
Honorable Mentions:
Ryan Nawrocki, Maryland Transit Administration
Sid Shuman, Sony Interactive Entertainment