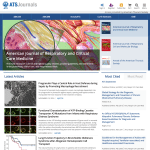 2017 Nonprofit PR Awards
Web Site
American Thoracic Society – Journals Web Site
The overarching goal of this redesign was to modernize the ATS Journals website with a more user-friendly, graphically enhanced design.
ATS wanted its website to better serve members' needs when accessing, discovering and reading cutting-edge research in the fields of respiratory, critical care and sleep medicine.
Other objectives included leveraging analytics data to construct a more user-focused information hierarchy; improving organization of each journal's landing page's various elements; highlighting non-research related content (social media, podcasts, blog, etc.); providing clear directives and visual cues for user action (subscribing, downloading, etc.); decreasing page clutter and focusing on highlighting the most popular and desired content front and center; optimizing enhanced pdfs so readers can notate and share articles with colleagues.
ATF's research consisted of an in-depth competitive analysis of other medical journals' websites within its respective field of research, hard data pertaining to the behavior patterns of its users via Google Analytics and a collection of observations and critiques from knowledgeable internal sources (graphic designers, current site users, web development team, etc.).
Suggestions from ATF's trusted sources were used to provide a foundation for possible design decisions. The idea to place a greater focus on images, enhancing readability and highlighting ATF's other content offerings all originated from this input. These suggestions were then evaluated alongside data collected from Google Analytics (click through and bounce rates, general traffic information, etc.) to help establish an organizational hierarchy for each page.
For example, the inclusion of Most Cited/Most Read articles on the homepage, featuring metrics on each journal landing page, and an ordering of links on each "About the Journal" section were design choices informed by a combination of observational input, Google Analytics date and conversion objectives for the site.
ATF's redesign was partially managed by an outside web development firm with the bulk of its visual aesthetic and static pages created by internal designers. The website has been overwhelmingly successful, with ATS members writing in or calling to express their delight. Comments include: "great site—much improved," "so much easier to navigate," "beautiful graphics" and "more modern."
Honorable Mention:
919 Marketing - College Foundation of North Carolina Microsites