Winner: Weber Shandwick with Milk Processor Education Program - Chocolate Milk: From the Gridiron to IRONMAN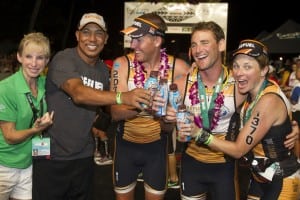 After decades of a slow but steady decline in milk consumption, an emerging body of published research identified a new usage occasion and a new audience for chocolate milk: as an effective beverage for helping active adults recover after strenuous exercise. This reason to reposition what has traditionally been known as a "kids' drink" into a serious athletes' beverage provided an opportunity to engage lapsed milk drinkers, drive incremental sales of flavored milk and provide a positive health halo around the category.
The campaign aimed to show how elite, credible athletes refuel with chocolate milk in a way that is believable, educational and entertaining. In March 2013, Weber Shandwick launched BECOME ONE, partnering with American football legend Hines Ward to transform him into an endurance athlete at the IRONMAN World Championship in Kona, Hawaii.
The program gave athletes the opportunity to follow his training and transformation – and showcased the important role of recovery and chocolate milk – through an online documentary series, which has so far generated more than 1.5 million views on YouTube. In addition, three everyday athletes – a mom, a medical student and a challenged athlete – won the chance to train alongside Hines, led by eight-time IRONMAN World Champion Paula Newby-Fraser. The entire BECOME ONE team served as chocolate milk ambassadors, sharing their progress via at-race interactions, social media, blog posts and media interviews.
With 1.5 million YouTube views and counting (40% over the campaign's goal), viewers have watched an average of 61% of each BECOME ONE episode. 
Honorable Mentions:
A Squared Group - Wii U Video Challenge
Samsung Electronics - Samsung Tomorrow TV Youtube
Sony Computer Entertainment America - PlayStation YouTube Channel