Winner: United Nations Foundation - #GivingTuesday - a global movement to celebrate giving back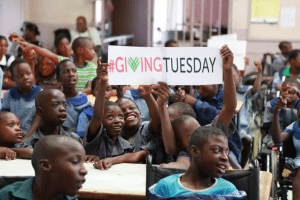 The objective of the United Nations Foundation's #GivingTuesday movement was to boost the idea of giving – of time, energy and expertise – throughout the holiday season by creating a new day on the calendar to mark the opening of the 2013 Giving Season, with volunteer projects, online fundraisers, and collections for the needy.
Social media was at the heart of the #GivingTuesday campaign from day one, as illustrated by name of the movement itself – a hashtag. The goal was to build a groundswell through digital technology that would raise awareness, involve thought leaders, and energize Americans and individuals around the globe to give.
On #GivingTuesday, there was tremendous engagement with the #UNselfie. Celebrities and concerned citizens alike were inspired by the idea of a "selfless selfie." Through independent action as well as encouragement from #GivingTuesday partners, over 7,000 #UNselfies were shared on Facebook, Instagram, Twitter, and Google+.
#GivingTuesday leveraged digital media in groundbreaking ways, with the #GivingTuesday hashtag used over 406,000 times in seven days on Twitter; in addition, the term #GivingTuesday trended on Twitter in the U.S. for over 10 straight hours on December 3, 2013.
Honorable Mention: