Winner: Marina Maher Communications - Head & Shoulders Season of the #Whiff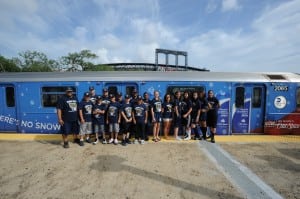 With the "Season of the #Whiff" campaign, Marina Maher Communications intrinsically linked Head & Shoulders to baseball, further solidifying the brand's partnership with Major League Baseball and contributing to sales 20% above the brand's original forecast.
Starting on Opening Day 2013, for every "whiff" (strikeout) across MLB during the 2013 regular season, Head & Shoulders made a $1 donation to the MLB Reviving Baseball in Inner cities (RBI) program. Fans got involved by tweeting whiffs throughout the season via #Whiff along with their favorite team's Twitter handle to rack up donations and also have the chance to win cool MLB prizes.
Part of the campaign involved Los Angeles Angels pitcher C.J. Wilson taking over the @HSforMen Twitter handle, answering fans' questions and commenting on the 2013 All-Star Game action. The campaign also tied Head & Shoulders into organic World Series conversation focused on #whiff by leveraging keyword targeting via social media posts on Facebook and Twitter, resulting in over 10K mentions of the #whiff hash tag for 24.4 million impressions. It also provided C.J. Wilson with pre-planned social media posts for deployment throughout the Series.
All 30 MLB clubs across the country participated in the campaign, and there were more than 1 billion Twitter impressions for the #whiff hashtag. On August 28 and 29, 2013 #Whiff was the #1 trending hashtag in the US.
Additional campaign results included the #Whiff hashtag receiving over 2,690,751 tweets and 212,956 contributors; a 489% increase in @HSforMen Twitter page followers throughout the entire campaign; and a 73.2 #whiff ratio, meaning for every strikeout, there were 25.1 #whiff tweets on average
Honorable Mentions:
APCO Worldwide - U.S. Travel Association: Entry Reform Campaign
Big Fuel and T-Mobile - T-Mobile Un-Carrier 3.0 Twitter Press Conference
Finn Partners - Hotels.com #MyFreeNight Campaign
Genzyme, a Sanofi Company - International Rare Disease Day Twitter Campaign
Grand Ole Opry - Opry Engagement Inside and Out
Substance Abuse and Mental Health Services Administration - National Children's Mental Health Awareness Day 2013
Weber Shandwick for Unilever N. America - CLEAR Scalp & Hair: #RightEnd Hair Revolution