Winner: SocialChorus - Advocate Marketing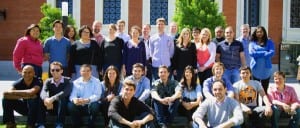 SocialChorus' Advocate Marketing Strategists create and optimize client programs while providing brands and advocates with personable and efficient experiences through their expertise and ongoing Advocate Marketing program management.
SocialChorus Advocate Marketing programs have a proven track record of achieving results (300-500% ROI on average). SocialChorus brand customers have goals ranging from increasing brand awareness and engagement to improving social engagement, in-store and online traffic.
The SocialChorus Advocate Experience integrates with all major social networks and allows for massive scalability, helping brands reach millions of consumers monthly. Advocates login to a customized, brand-controlled social experience to create and share unique content and opportunities about the brand with their networks, amplifying brand reach via their networks. These advocate and audience engagements are measured and tracked in real-time by the platform.
The SocialChorus Advocate Experience allows brands to easily track and measure all relevant metrics pertaining to a program, including total number of advocates; total audience of advocates; total advocate and audience engagement (comments, likes, re-shares, clicks, etc.); total potential reach; and top performing advocates and content.
One customer needed a technology partner that could help them scale their employee advocate program so SocialChorus recruited 500 brand employees and empowered them to increase their social use while sharing brand content and highlighting upcoming brand events; as a result, the employee advocate program generated 2.6M monthly impressions for the brand and helped improve social engagement and share of voice. Additionally, the program improved employee morale and social engagement while establishing employees as thought leaders in the space.
Honorable Mentions:
Dynamic Signal - AMD North American Influencer Program
MasterCard - The MasterCard Conversation Suite
Rockfish - Media Multiplyer
Sprocket Media - Digarati: Social Publishing Platform
The Root - In Recognition Of The Chatterati By The Root