Winner: ASCD - Using Pinterest to Support ASCD's Brand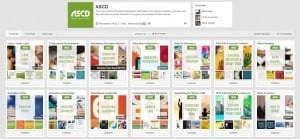 ASCD aims to meet its customers on the social platforms they use regularly. And, with a membership comprised of educators at all levels of the profession, ASCD's audience took to Pinterest as a professional resource and social channel quickly.
Pinterest is used by ASCD as a tool to communicate about every facet of the organization. Through pinned content, ASCD serves stakeholders with unique and individualized plans. Pins are developed through researched and data-driven best practices specific to ASCD's audience of educators.
Second, Pinterest is used as a tool to engage with ASCD's customers. Through social listening (collection of customer feedback that is translated back to product development, sales and marketing teams) and tracking of successful content, ASCD constantly adjusts its strategy to build its audience and serve their needs.
ASCD content sees an average of 11,100 repins per month and these repins generate more than 3,000 monthly visits to ASCD's website; furthermore, ASCD has seen an increase from 1,900 followers in 2012 to more than 10,550 followers today, and it continues to see steady growth monthly. This steady increase in followers bucks national trends as typical Pinterest accounts seem to hit a saturation point of audience, but ASCD's account has not stopped growing.
Honorable Mentions:
All Points Public Relations - Bottle & Bottega Ladies Night Out: Pin it to Win it
MXM Social - BHG's $1,000 Room Refresh Pin to Win Sweepstakes