Winner: Ignite Social Media - Dodge Defiance Social Program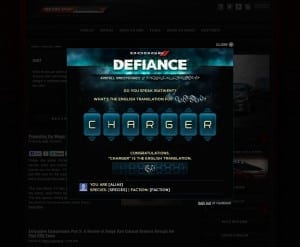 Ignite Social Media's Dodge client established a partnership with SyFy TV network and the Trion Worlds video game developer around the TV show and video game Defiance, which featured both the Dodge Charger and the Dodge Challenger. The goal of this promotion was to grow awareness for the Dodge brand among the Defiance community and gain page views and social media fans for Dodge online properties.
Ignite Social Media devised a strategy centered on social gaming in order to engage with the two desired audiences. The central idea was to create a game that was tied to the mechanics of, and acted as an extension of, the game and the show. In order to achieve that goal, Ignite Social Media relied on the use of Facebook's Open Graph technology. A relatively new opportunity to generate News Feed impressions while replicating the game mentality, it compensated for the fact that the original scope of the project didn't include media support by enabling players to drive awareness for the program.
One phase of the campaign centered on Arkfalls (technologies that are dropped to Earth in Defiance). In the social game, Arkfalls were themed around Dodge vehicles, thereby increasing awareness of the vehicles. During a pre-registration period that went live on the microsite two weeks before the game began, users chose one of three factions to join, gave their registration information, and opted in to be notified when Arkfalls launched. They were also given the chance to share which faction they joined in order to incentivize their friends to join as well. Winners were randomly chosen from the most successful faction to win tiers of prizing, and an overall grand prize—a trip to a premiere pop culture event.
In all, the program generated over 250 million impressions, 30% of which were Facebook Open Graph updates and the sweepstakes helped generate over 167,000 pageviews and a 112% increase in traffic for the Redline Dodge blog.
Honorable Mention:
BTN Tiebreaker: Cast Your Vote