Winner: Human Rights Campaign - Turning the Internet Red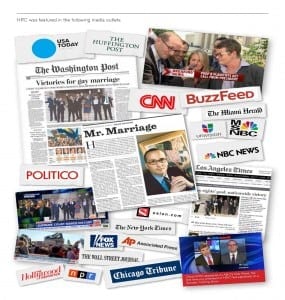 It was the roar heard around the country and a cause amplified because of the six months of work done by the Human Rights Campaign (HRC). On June 26, 2013, the Supreme Court delivered its decisions on two marriage equality cases: same-sex marriage was returned to California and the federal Defense of Marriage Act was ruled unconstitutional.
Prior to the rulings, the Human Rights Campaign (HRC) conceived and led a multi-faceted national campaign aimed at elevating the conversation around marriage equality and changing hearts and minds to the side of equality.
To engage the broad LGBT and allied movement online, HRC meticulously crafted a digital media campaign with focused content each day leading up to the cases. However, none of HRC's efforts matched the impact and reach of the red equal sign logo. The red logo provided a straightforward way—in a field of complex legal issues—for fair-minded people to show their support for marriage equality.
In the time between oral arguments and decision day, HRC's work extended to its digital networks including Facebook, Twitter, Instagram, Tumblr, mobile apps, and HRC.org. HRC's engagement tools were housed in a Supreme Court Action Center, a one-stop shop to help amplify the support for loving, committed same-sex couples.
HRC's campaign yielded tremendous results: within 24 hours HRC's initial red logo post on Facebook received 189,177 shares, 95,725 likes, 18 million newsfeed appearances, over 10 million impressions, and inspired countless memes. Facebook recorded a 120 percent increase in profile photo updates and deemed the effort the most successful campaign in Facebook history.
Honorable Mentions:
EMD Serono Notes of Hope Campaign
Essencius and Unfold by Essencius - Coca-Cola Arctic Home
Weber Shandwick and Novartis Pharmaceuticals - The Sight Experience
Weber Shandwick with PEDIGREE® Brand - The PEDIGREE Feeding Project