Winner: Zocalo Group - Werther's Original Sugar Free Turns Low-Interest Candy Into a Must-Taste Experience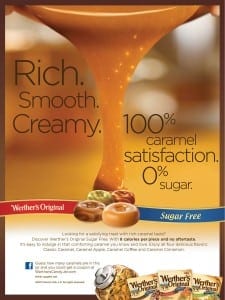 Rich, sweet and tasty are words rarely used to describe sugar free candy. More commonly, they're perceived as medicinal, less-desirable alternatives to full sugar treats and ultimately passed up. With a long, reputable history of producing rich, buttery-tasting caramels, Werther's Original sought to increase awareness of its satisfying sugar free options - which taste just like the original.
Increasing trial, purchase and social engagement among people with diabetes were additional priorities. Twenty-six million people are living with diabetes in the U.S., presenting a major growth opportunity for Werther's Original Sugar Free. This campaign set out to gain a better understanding of their opinions on sugar free candy and how they use social media.
A candy jar visual and game experience became the center of the 2013 Werther's Original Sugar Free Facebook marketing campaign, establishing a cohesive look and compelling call-to-action for all paid, earned, shared and owned tactics. Borrowing equity from the master brand and giving instant credibility to the sugar free candies, a Caramel Shoppe candy jar was turned into a game experience. This would remind consumers that sugar free caramel belongs in a candy jar – not a medicine cabinet. Fans would have the chance to guess how many caramels were in the jar to receive a $1.00-off coupon.
In addition, sponsored Facebook stories, marketplace ads and promoted posts around the candy jar game were targeted to the 4.6 million potential diabetes-interested individuals. To date, 95,000 fans have Liked the Werther's Original Sugar Free Facebook page, surpassing the goal of 35,000; and the candy jar game tab generated 218,000 pageviews.
Honorable Mentions:
Accenture Outlook Journal Expansion
BTN Tiebreaker: Cast Your Vote
Global Strategy Group - Teens in NYC Protection+ Mobile App Campaign
Hilton Worldwide - DoubleTree by Hilton "Where in the World is the DoubleTree Cookie?"
Motive: A Project Worldwide Agency - Native Eyewear Locals Only Project 2013
Sprocket Media - Oracle Magazine Facebook Marketing
TTNET
USANA Health Sciences - RESET: Transformation Destination 2013
Victaulic Company - Driving downloads to help integrate its construction solutions