Winner:  Finn Partners - And They're Off: How IEEE's Supercomputing Social Media Campaign Outpaced Lofty Goals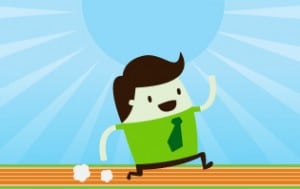 Finn Partners knew IEEE, the world's largest technical professional organization dedicated to advancing technology for humanity, needed to build something completely unique that tied together supercomputing and future technology predictions in a fun and engaging way.
Finn Partners' strategy led to the creation of a Facebook post asking the IEEE community to submit their prediction of a future technology that supercomputers could help us achieve. Predictions would be split into five categories: biometrics, energy, vehicles, homes and personal devices. Finn Partners conceptualized, designed, developed and executed the "IEEE: Race to the Future" contest. Both a web version and a mobile version of the Facebook application were launched.
After asking participants for general information in order to contact the contest winner, the app then lets users choose from the five predetermined topics. Within each topic, a user then chooses a racer that represents the prediction that they think will happen first. Animated track-like figures then race across the screen, at speeds based on the amount of votes each one received. Once all of the runners finish, a user then sees the final results from all votes submitted, and can choose to race another topic.
User experience was the most important part of this contest. From the throwback 1980's video game fonts, to bright illustrations, to game-inspired interactions, this contest was built from the ground-up for the techie audience.
And, the campaign was ultimately a smashing success, surpassing the goal number of Facebook page "likes" by 37% (79,776); surpassing the goal of impressions on the contest Facebook post by 328% (428,544); and recording 37,756 unique visits to the Facebook app.
Honorable Mentions:
Barclaycard US - 2013 NFL Extra Points Draft Day Sweepstakes
Georgia Aquarium
Ignite Social Media - Dodge Defiance Social Program
Lockheed Martin Innovation Madness
Motive: A Project Worldwide Agency - Matador Summer Stampede
USANA Health Sciences - USANA Open
Zocalo Group - Werther's Original Sugar Free Turns Low-Interest Candy into a Must-Taste Experience