Winner: Clear Channel - iHeartRadio's Show Your Stripes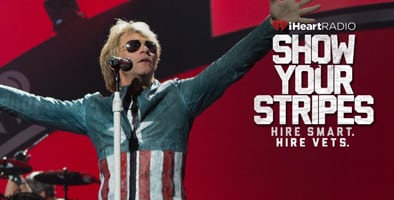 iHeartRadio's Show Your Stripes (SYS) – with the tagline "Hire Smart – Hire Vets" – is a long-term effort to help guide veterans back into civilian life by highlighting their valuable training and experience. This campaign is the largest public service program in Clear Channel's history and leverages Clear Channel's powerful cross-platform reach to create valuable career opportunities for returning veterans. All public service announcements direct listeners to showyourstripes.org – a centralized, easy-to-use destination for veterans, businesses and supporters. The campaign will continue well into 2014.
Unlike many current military programs, SYS has one central area of focus: employment for veterans. Clear Channel maximizes its massive reach to drive both veterans and businesses to a website of curated resources, and at the same time, informs the public about the military-friendly businesses in their own communities – and the importance of supporting them. SYS galvanizes existing efforts and centralizes the messages that are currently coming from too many places.
In addition to using its airwaves and billboard assets – close to $100 million worth in 2013 – Clear Channel activated its Local Advisory Boards (LABs) to help champion the cause; in fact, Clear Channel has the support of approximately 150 LABs across the U.S. made up of nearly 2,000 Clear Channel executives, local communities, government and educational leaders who work together to discuss community-based issues and solutions. 
Honorable Mentions:
The California Endowment - #Health4All
DeVry University – HerWorld
Ford and OgilvyEarth - MyEnergi Lifestyle
Mashable – Social Good Summit
Novartis International AG – Improving access to healthcare through innovative and sustainable business models
Raytheon's Hashtags4Heroes: Empowering Social Media Users to Thank Military Veterans
SIA Lattelecom – Computer literacy project for seniors "Connect, Latvia!"