Winner: RF|Binder Partners - CVS Caremark: Building Healthier Communities "One Shoreline at a Time"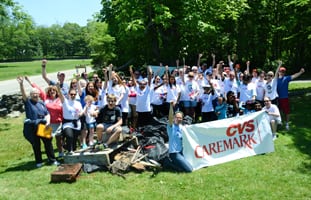 CVS Caremark last year partnered with Ocean Conservancy, a leading organization that educates and empowers citizens to take action on behalf of the ocean, to launch the CVS Caremark Shoreline Cleanup, a national environmental employee engagement campaign. The campaign offered CVS Caremark colleagues the opportunity to make a difference in their local communities by collecting trash from shorelines across the country. It also provided the opportunity to educate colleagues and the community on the connection between a healthy ocean and our own health.
CVS Caremark engaged RF|Binder to raise awareness of the partnership in five of CVS Caremark's key markets where cleanups were taking place: Rhode Island, Arizona, Illinois, Texas and Florida. To help generate regional awareness of the CVS Caremark Shoreline Cleanup events, RF|Binder drafted compelling media pitches and media advisories for each cleanup. Each media advisory highlighted why it was important to clean up that specific shoreline. For example, the Montrose Beach media advisory focused on how it's the largest Chicago Park District beach with a natural habitat that is a hub for migratory birds and home to endangered plant life. The RF|Binder team also worked with the CVS team to connect with local dignitaries in each market, inviting them to attend the event and including them in press materials. Overall, the effort resulted in a total of more than 1.6 million media impressions.
Honorable Mentions:
Bacardi Limited - "Spirit for Life, Caring Together" Shows its Sustainability Spirit
Nestlé Waters North America  - Project Picnic
Quaker Oats - Good Purpose Team
RF|Binder Partners - Capital One's One Week: "Investing for Good" One Community at a Time