Winner: Kaiser Permanente - National Supplier Diversity Campaign: Handbooks & Education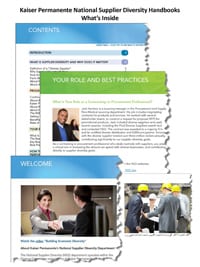 In  2013, this campaign's goal was about education and training to equip every employee to take heightened action to achieve the company's diversity goals. 
One of the largest health plan organizations in the nation, Kaiser Permanente, launched the One Billion Dollar Supplier  Diversity  campaign  in   2011,  with  a  goal  to  achieve  one  billion  in  spend  with  minority  and  women  owned  businesses  in   three  to  five  years.  Its National Supplier Diversity Program,  in  place  for  over  25  years,   ensures  that  small,  minority-­,  women-­,  veteran-­owned  and  other  diverse  businesses  are   provided  the  maximum  opportunity  to  compete  for  contracts  and  purchases.
This 2013 Supplier Diversity education campaign resulted in heightened employee education through the publishing of comprehensive Supplier Diversity Handbooks—innovative tools and resources for three distinct employee audiences— to inform them of  their  responsibilities.   
The handbooks were published online on the NSD website and a communication  plan was established, including company-wide cascaded messaging to all levels of  employees. According to Kaiser, the company will surpass its goal and reach the  $1B mark in 2013 in  three  rather  than five years.
Honorable Mentions:
ChangeMakers - Multi-Language Communications
General Motors - Women's Electrification Panel
Novo Nordisk, Inc. and Biosector 2 - Ask.Screen.Know. Public Service Announcement
Time Warner Cable Media – The 90 That Built LA