Winner: Kimco Realty Builds Industry Leadership in CSR through Corporate Blog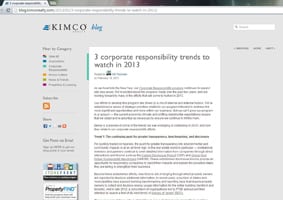 Kimco's blog content is fed into Kimco's media relations strategy, fueling story ideas that have won exposure for Kimco and its thought leaders in national, regional, local, and trade outlets. These include The New York Times, The Wall Street Journal, Newsday, Forbes, regional business journals, Retail Traffic, and National Real Estate Investor, among others.
In conjunction with the 20th anniversary of its IPO in 2011, Kimco worked with Gregory FCA to launch an avant-garde communications strategy that included the debut of its corporate blog, blog.kimcorealty.com. It was a bold step, as Kimco faced stringent corporate communications and investor relations regulations, as well as an industry that was skeptical of social media communication channels. However, Kimco's strategy was well-conceived and executed to remain compliant with all regulations, while establishing industry leadership in using social media to inform and engage audiences on its CSR programs, as well as other company news and industry commentary.
The blog is integrated with a larger communications program and media relations campaign to spread the company's CSR story further to its target audience. Kimco is now tapping an organic audience eager for news and information that is impacting the retail industry and the communities in which the company operates. This creates an open dialogue that engages audiences and rallies support for the company's community initiatives.
 Honorable Mentions:
Cone Communications - Prove Your Purpose Raises the Bar in CSR Thought Leadership
General Motors – GM Beyond Now
Network for Good - CompaniesforGood.org
RF|Binder Partners - CVS Caremark All Kids Can Blog  "Helping Kids to Be The Best They Can Be"