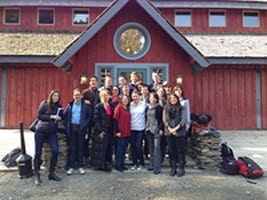 Edelman's Business + Social Purpose practice inspires brands and organizations to change the world by marrying profit and purpose. Through a team of 125 strategy consultants and creative communicators, the practice helps organizations identify and understand their purpose and creates viable programs at the intersection of business and society.
For over three decades, Edelman has been helping clients create lasting connections between business and social issues, from StarKist's dolphin-safe tuna and Dove's Campaign for Real Beauty to Starbucks' Shared Planet and GE's ecomagination. These and other initiatives demonstrate the comprehensive nature of Edelman's Business + Social Purpose practice.
Over the past year, the Business + Social Purpose practice has experienced 18% growth. It employs proprietary methodologies, while drawing on Edelman's research to develop integrated business and communications solutions for commercial success and social impact. This global offering addresses the CSR, sustainability and citizenship needs of corporations, brands, foundations and nonprofit organizations.
Edelman's known for successfully launching GE's "ecomagination" corporate positioning campaign; giving women a reason to join forces in combating heart disease for American Heart Association's "Go Red for Women;" redefining "Real Beauty" for Dove; launching Starbuck's global Shared Planet; and implementing the European Commission's largest-ever consumer campaign across EU-25 on climate change.