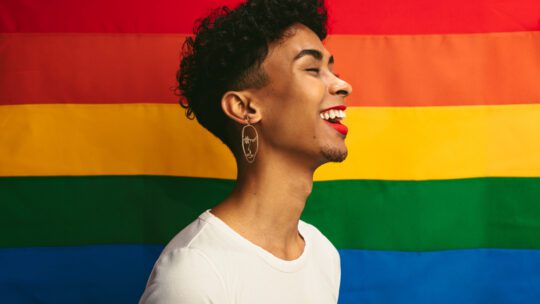 Certainly, Absolut Vodka is a business like any other. Its priority is selling product. However, its Out & Open campaign,  a partnership with actor and comedian Bowen Yang, goes beyond that. Launched May 10, one of the effort's goals is uplifting LGBTQ+ bars, businesses and safe spaces. Queer bars closed at an astonishingly high rate during COVID. 
"We know first-hand that these vibrant, joyful spaces are far more than just a place to get a cocktail," says Pam Forbus, SVP & CMO, Pernod Ricard North America. "Whether it's providing a sense of belonging and acceptance, hosting activism events and fundraisers, providing resources or networking or just a place to be yourself, bars and restaurants exist at the center of the LGBTQ community." 
Out & Open
In collaboration with the National LGBT Chamber of Commerce, Absolut is providing resources and training to the next generation of LGBT business owners. It hopes a $175,000 donation will leave a lasting impact on the community. Overall, Out & Open seems a good example of how to create an authentic LGBTQ+ -focused campaign.  
Absolut began marketing the LGBTQ+ community and supporting it in the early 1980's. It felt passionately about people's right to be who they are and express themselves freely, according to Forbus. Out & Open is an extension of that legacy. Absolut supported the community when many other brands were not, adds Ben Finzel, president, RENEWPR, a firm specializing in LGBTQ, energy and environment issues.
Importantly, Absolut says it's committed to Out & Open beyond 2022. "Our work doesn't end on June 30...the need to protect and preserve the future of these spaces will continue," Forbus says.
Similarly, Finzel agrees that an authentic pride campaign goes beyond June.
Corporations this month: pic.twitter.com/s2zFizLuqe

— Meg Stalter (@megstalter) June 2, 2021
Performative vs. Authentic
Another challenge for companies creating LGBTQ+ -focused campaigns is that some take the performative route, using tactics such as rainbow washing. This sort of tone-deaf effort often is criticized on social for pandering to queer audiences.    
For example, Twitter users scolded the U.S. Marine Corps for a June 1 posting of a photoshopped combat helmet with rainbow bullets on it. Critics contend the Marines have done little to address LGBTQ+ discrimination in their ranks.  
"Creating an authentic campaign means really thinking about what are the issues that drive our community," says Finzel. "What are the needs of the community? What do we need, socially, economically, politically." He adds, companies should think about "how your brand can legitimately and purposefully help address those" issues. 
Do the Work, Then Speak Out
It's basic PR that companies should examine their internal workings before creating an external campaign. Companies whose values and actions don't reflect those of a movement, can't create an authentic initiative celebrating it, Finzel says.
"Make sure that you're providing equal benefits, promotions, pay and opportunities to LGBT and all diverse employees," Finzel adds. "Because the moment you go out there with a campaign saying 'we want to help the LGBT community do X, Y, and Z,' and your LGBT employees don't have the same opportunities as others, there's a problem." 
Forbus also suggests working with members of the community and its organizations. Their experience can help companies understand a community's needs and authentically address them.  
For instance, "Absolut consulted experts from GLAAD to the NGLCC and beyond to help" it shape "a program that would create a lasting impact," Forbus says. "We inquired...[and learned] about real issues and we then responded with action."
In the end, the first step is to "simply listen," Forbus says.
Andrew Byrd is a media associate with PRNEWS