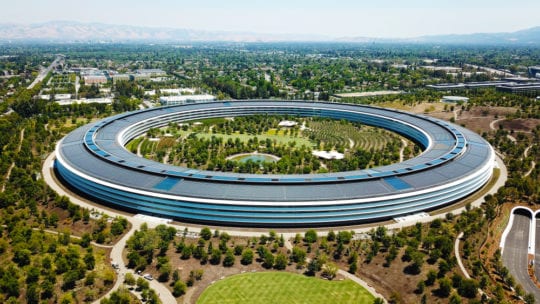 On Monday, November 4th, Apple announced a massive initiative intended to combat the housing crisis in California. The $2.5 billion plan not only marks a larger investment than Google's previously announced $1 billion effort, but goes into much greater detail than Google's initiative around how, exactly, those funds will be allocated.
Are the tech giants putting a band-aid on a crisis that they themselves exacerbated? Perhaps. But Apple's ownership of its role in both contributing to—and remedying— this crisis offers several lessons for brands hoping to take on a social good programs with substance.
What does taking responsibility look like?
This massive plan certainly seems like Apple taking a corrective measure of a crisis that it, as a brand once at the vanguard of the Silicon Valley boom, unwittingly had a hand in creating. But to the company's credit, its announcement of the $2.5 billion plan takes responsibility for Apple's role in the development of the Bay Area.
"Before the world knew the name Silicon Valley, and long before we carried technology in our pockets, Apple called this region home, and we feel a profound civic responsibility to ensure it remains a vibrant place where people can live, have a family and contribute to the community," said Tim Cook, Apple's CEO. "Affordable housing means stability and dignity, opportunity and pride. When these things fall out of reach for too many, we know the course we are on is unsustainable, and Apple is committed to being part of the solution."
Worth noting—Cook's context comes in the second paragraph of Apple's announcement. Instead of burying its responsibility deeper in the press release, it's holding it high. That's what accountability looks like.
Cut to the core of an issue
Higher up in Apple's press release is context that cuts to the core of why this housing crisis encompasses so many other issues.
"As costs skyrocket for renters and potential homebuyers — and as the availability of affordable housing fails to keep pace with the region's growth — community members like teachers, firefighters, first responders and service workers are increasingly having to make the difficult choice to leave behind the community they have long called home," it reads. "Nearly 30,000 people left San Francisco between April and June of this year and homeownership in the Bay Area is at a seven-year low."
Putting this context up top demonstrates Apple's communications team is practicing the same strategies as a skilled journalist—leading with the news. Why would this matter to people outside California? By demonstrating how rising prices displace essential community players, Apple conveys the consequences of this hyperlocal crisis in terms that strike a global chord. By attaching faces to the growing global gentrification problem, Apple's text interests readers from the outset.
A detailed financial breakdown that's easy to digest
Equally impressive is the press release's level of detail about how the $2.5 billion will be allocated. It includes a $1 billion "first-of-its-kind" affordable state housing fund "that will provide the state and others with an open line of credit to develop and build additional new, very low-to moderate-income housing faster and at a lower cost." By emphasizing that this has never been done, Apple reminds us that it still, in fact, practices its "think different" tagline.
Another $1 billion, meanwhile, will be used to start a fund for first-time home buyers. It will "provide aspiring homebuyers with financing and down payment assistance. Apple and the state will explore strategies to increase access to first-time homeownership opportunities for essential service personnel, school employees and veterans."
Let that last part sink in—Apple will work California to strategize on the best ways to implement this portion of its initiative. That's the exact opposite of throwing money at a problem—instead Apple is taking an active, engaged role in solving it.
These big spends, and the totality of the $2.5 billion, are also summed up in this handy, easy-to-read infographic: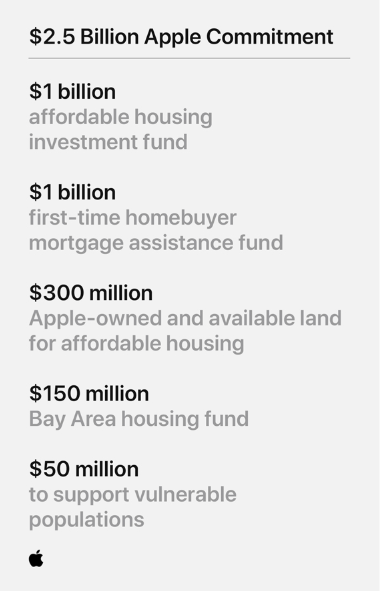 Easily legible in the company's comfortably familiar typeface, with its logo in its consistent home on the bottom left, this infographic does far more than illustrate the breakdown of Apple's financial commitment. It also shows Apple  is confident enough in said commitment to lay it all out there in a brand-consistent style.
Brand communicators often struggle to find this balance when it comes to packaging information for quarterly earnings calls and the like. How do you communicate your data in a way that's not overwhelming, simplifying it without stripping away of substance or context?
Apple's aesthetic style remains the industry standard for conveying such information. It's clean, simple and invites you in to learn more.