On Sunday (Jan. 2),  a bizarre entry was added to Tampa Bay Buccaneers wide receiver Antonio Brown's rocky history. After head coach Bruce Arians allegedly told Brown to enter the game during a game against the NY Jets, Brown was seen storming off the field shirtless, throwing clothing at fans and making peace signs. After the game, which the Buccaneers won, Arians said Brown was released from the team.
Short and (not so) sweet
Arians kept it brief at the presser. "He is no longer a Buc, alright? That's the end of the story," Arians said. "Let's talk about the guys that went out there and won the game," he pivoted.
Adam Ritchie, principal, Adam Ritchie Brand Direction, sees Arians' strategy as an attempt to "keep emotion out of it and refocus the conversation on the game." However, says Ritchie, the tactic didn't work. It left the major question of Brown's final discussion with his coach open to interpretation by the media and the public, making PR cleanup harder.
Contrasting narratives
NFL Networks reported that Brown said he was healing from an ankle injury, the reason he rejected Arians' call to enter the game. However, there were ultimately "more questions for Brown to answer than for the organization to answer," as Brown's athletic display as he ran off the field appeared to refute the ankle injury claim, argues Ritchie.
Given Brown's history of erratic behavior, Arians risked appearing insensitive to an employee with a potential mental health issue, Ritchie adds. He points to Arians' follow-up statement today (Jan. 3).
"I wish him well. I hope if he needs help, [he] get[s] some. It's very hard because I do care about him," Arians said.
The coach was one day behind star quarterback Tom Brady, who expressed sympathy for Brown right after the game. Brady urged the Buccaneers to sign Brown last season.
Making the most of social reach
Meanwhile, Brown, who earlier was suspended after using a fake vaccination card, took to Instagram, sharing an out-of-uniform photo using the game location of MetLife Stadium with the caption "Super Gremlin," the title of a popular Kodak Black song. Sporting News reporter Madison Williams noted that social media users saw the caption as a reference to the song's core theme of betrayal.
An hour later, Brown posted a sponsored photo for fashion brand NovaMen (part of Nova Fashion) with the caption, "Football is what we do, not who we are!" The caption signaled Brown's pivot, with Nova choosing to keep the photo of Brown on their Instagram account amid the controversy.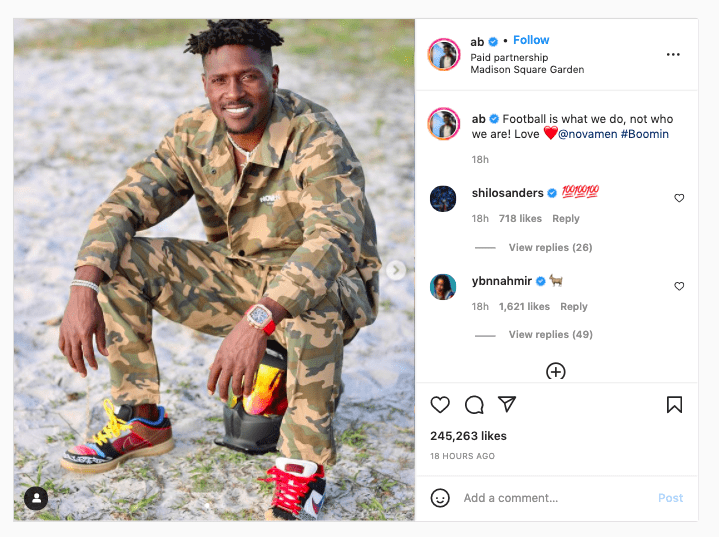 The employer statement that wasn't
Initially, Arians missed a chance to "[take] the high road," says Ritchie. "When any organization can't, or won't, share more information about an employee's termination, they should always say it's out of respect for the privacy of their former employee that they won't share what transpired behind closed doors."
After setting that boundary, an employer should be "monitoring to see if the public believes any claims made by the former employee, and step in when the claims become believable enough that it would be dangerous not to correct the record. In some cases, the employee may contradict their own claims and prove to be an unreliable source," says Ritchie.
Instagram's fashion faction
While the press and many social media users may be frustrated with Brown's erratic behavior, some Instagram commenters appeared to show solidarity with Brown's decision to leave the field. This may have influenced Fashion Nova's decision not to pull the post as of this writing—after all, Brown is undeniably having a media moment.
Brands like Fashion Nova leverage influencer marketing ("collabs") heavily. While having an erratic celebrity market products and services may seem a PR risk, the brand's choice to work with Brown is a common practice: leveraging an influencer who plays to target audiences' aspirations and self-image.
Those who view themselves as going against the grain (or who aspire to) might gravitate to Fashion Nova's "unapologetically sexy" aesthetic; the brand boasts that it's featured in popular songs and major celebrities wear it. That same aesthetic syncs well with a celebrity who frequently makes headlines and defies authority.
A PBR chaser
On a similar but separate note, beer brand Pabst Blue Ribbon is having a controversial social media moment. After posting, then deleting, a New Year's tweet that some found too obscene for a corporate entity, brand communicators are debating the merits of such a ploy.
Creative strategist Jack Appleby was not impressed. He sees PBR's stunt as out-of-date. He tweeted, "Yes, you've got to fight for eyeballs in social now. There's so much content out there. Stop taking the extreme bait. Be creative without being chaotic. There are better ways, that are more true to your brand, that will drive more community, that will drive more sales."
On the other hand, Andrew Dakan, who leads social content at Big Finish Digital, felt PBR could get away with pushing the envelope. Responding to Appleby, Dakan wrote, "Was the tweet going a little too far? Probably. Was I THAT surprised to see it? [To be honest] no. they have been pushing boundaries for some time and this isn't completely out of left field…PBR was one of my [favorite] brand accounts all of last year because they've really owned their space. They've been edgy on here [because] that's what their entire brand is about, that DIY, dive bar, semi-pro wrestling energy."
It seems Fashion Nova—and Brown—are in the second camp. As for the NFL, one would expect it is monitoring and debating the situation much in the same way.
Update, Jan. 4: PBR apologized for the tweet, evidently coming around to Appleby's line of thinking.
Sophie Maerowitz is associate director, event content for PRNEWS. Follow her @SophieMaerowitz.