In the last week, three women have come forward with sexual harassment allegations against New York Gov. Andrew M. Cuomo, a PR nightmare for his office to say the least.
Lindsey Boylan, a former aide, was the first to air grievances against the governor. On Feb. 24, she published a Medium essay detailing two years of inappropriate behavior.
Boylan painted a picture of workplace culture that enabled the governor's inappropriate treatment of women—some of his closest female staffers facilitated the situation, she alleged.
Media Backlash
So far, Gov. Cuomo, a controversial figure, seems to have few allies in the press, regardless of publications' political tilt. Boylan's essay quickly picked up steam in the media, cited in outlets as varied as Refinery29, The New York Times and Fox News.
Since Boylan's allegations, Twitter has been on fire with calls for an independent investigation as well as calls for Cuomo to resign or get impeached. Many of the calls are from members of the New York State legislature. NBC News reported that Gov. Cuomo will lose his emergency pandemic powers in a legislative deal between the New York State Assembly and Senate.
It's time. https://t.co/xSb76mxJ13

— Assemblymember Emily Gallagher (@EmilyAssembly) March 2, 2021
After a weekend of back-and-forth between the Governor's Office and New York State Attorney General Tish James' office over who would be selected to lead an investigation into the governor's conduct, James won. Her office plans to "select a private attorney to investigate [Cuomo], agreeing to give the lawyer and their colleagues full investigatory power under state law," according to Democrat & Chronicle.
More Bad News for the Governor
Social media outcry picked up steam as two other women stepped forward in the days following Boylan's revelations.
On Feb. 27, Charlotte Bennett, also a former aide to the governor, revealed her account of sexual harassment. Bennett recounted several inappropriate questions Mr. Cuomo asked her; "comments she interpreted as clear overtures to a sexual relationship," per The New York Times.
The third accusation was made yesterday (March 1). Anna Ruch, a former member of the Obama administration and the 2020 Biden presidential campaign, said she met the governor at a wedding in 2019.
Ruch's account of the governor touching her lower back and asking to kiss her mirrored some of Boylan's allegations. She included a photograph of the encounter, now memorialized on the front page of the New York Post.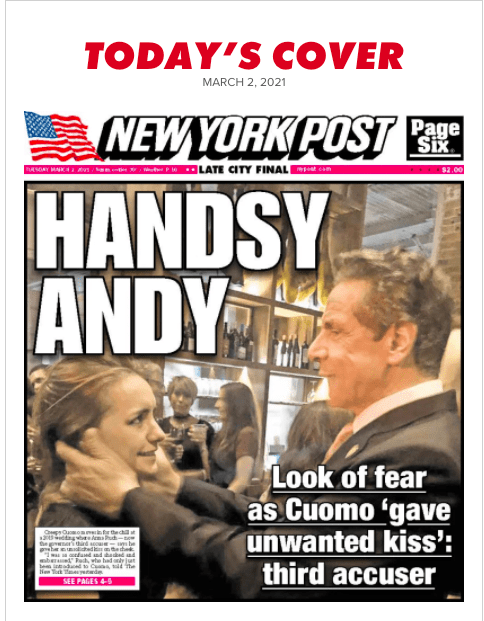 A Lackluster Response
On Feb. 28, the Governor's Office released a lengthy statement (full text here). For the most part, the public has not been receptive.
Critics are attacking the governor with one of the clauses in the statement: "I think I am being playful and making jokes that I think are funny."
The comment may seem like a stab at self-effacing charm, but the approach "failed to ground the gravity of the accusations and actually apologize for wrongdoing," says Chanel Cathey, founder and CEO of CJC Insights, LLC, a strategic communication and PR agency.
The statement continues, "I acknowledge some of the things I have said have been misinterpreted as an unwanted flirtation. To the extent anyone felt that way, I am truly sorry about that."
Cathey calls the governor's acknowledgement "essentially a non-apology," arguing that his approach–an acknowledgement of his demeanor, without remorse—lacks authenticity. The apology also "fell short in its attempt to try to strike a middle ground," she adds.
An Apology Done Right?
So, what's a PR pro to do when their executive ends up in the hot seat? There's no magic bullet: "Apologies are never easy, especially when in response to serious allegations like sexual harassment," Cathey notes. That said, she advises "responding in a timely manner and accepting responsibility to mitigate potential blowback."
Ariane Lovell, VP, health media relations at FINN Partners, and chair of mentorship programs at the Black Public Relations Society of New York, also takes issue with the governor's verbiage.
"You cannot control how someone interprets your actions. In a public apology, focus on your actions versus how someone might have interpreted them," she advises. Lovell argues that Gov. Cuomo's response attempts to "deflect...attention from what [he has] done." This rarely works.
As PR pros know, words matter. The only use of the word "sorry" in his statement is diluted by the qualifier "to the extent anyone felt that way." And, "while saying 'sorry' is essential...," says Lovell, "it is even more important to take it a step further and express responsibility for any wrongdoing. If you miss this vital step, the statement can be used to provoke forgiveness without acknowledging fault."
Crickets, for Now
As of this writing, since Feb. 28, the governor's press office has steered clear of further statements. It has provided no updates on a concurrent scandal, surrounding undercounted COVID-19 deaths and admission practices of New York state nursing homes.
The governor's PR strategy now might be to let the lawyers take over, wait for reputation issues to blow over or let other news eclipse the story, such as burgeoning vaccination rates (the subject of the latest release as of this writing).
Gov. Cuomo and his communication team may also be hoping supporters take up the mantle of his defense in the court of public opinion if he keeps mum.
The governor became a beloved national figure in spring 2020 for memorable press conferences and decisive statements at a time when many saw COVID-19 communication at the national level as woefully inadequate.
Mounting a Counter-Attack
Some found the governor's talkbacks comforting, a "lifeline," even, as Gothamist's Jake Offenhartz found in interviews with Gov. Cuomo's staunchest defenders. A number of the governor's fans launched a "counter-offensive" wrapped in conspiracy theories, writes Offenhartz, with some claiming that the sexual harassment allegations are a result of "Trump and the Russians...working in tandem to derail the governor, as part of an effort to stop the Manhattan District Attorney's prosecution of the former president."
The Manhattan District Attorney is investigating the former president's tax returns.
One of Offenhartz's sources confirmed spending "3 to 4 hours per day tweeting in Cuomo's defense." The governor's fandom counter-offensive illustrates, as one beloved New Yorker so memorably quipped a half century ago,"it ain't over till it's over."
In times as unpredictable as these, Gov. Cuomo's fall from grace (or rebound?) may end up being one of the more memorable U.S. crisis case studies of a public figure amid the pandemic.
Sophie Maerowitz is senior content manager for PRNEWS. Follow her: @SophieMaerowitz