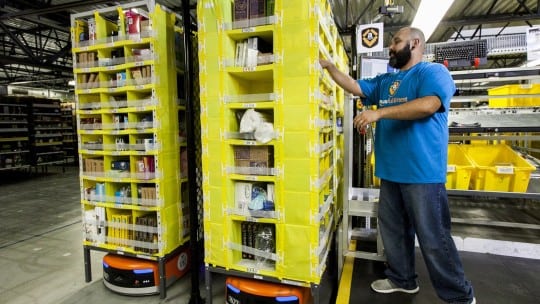 On June 16, Amazon announced its $13.7 billion acquisition of Whole Foods in a press release widely covered by the news media. But what does Amazon's messaging look like to its investors and top stakeholders?
In the 10 days since the press release and subsequent front-page headlines, messaging for investors has centered on quarterly sales, enabling a media narrative around cost-cutting automation, aligning with government priorities and keeping CSR efforts in its corporate communications mix.
Here are five ways Amazon has been communicating the acquisition as a benefit to investors:
Keeping sales front and center for investors. Amazon's Investor Relations microsite does not feature the Whole Foods deal (which is featured only on its separate Press Room page). Instead, all three of its spotlight articles focus on sales being up for each recent quarter.
Taking a backseat to news media's narrative around reducing costs. Bloomberg published a June 26 story citing "a person familiar with the matter who asked not to be identified" as stating that "Amazon spent a lot of time analyzing Whole Foods' distribution technology, pointing to...opportunities to reduce costs." Amazon has thus far refrained from making direct quotes to the news media on its cost-cutting technology as it relates to the Whole Foods deal but appears rather to be waiting and watching for industry experts to connect the dots.
---
Is your company an industry leader in messaging to investors and other financial stakeholders? Enter today for PR News' and CommPro's The Finnies, a financial communications awards program where winners will be honored online and at a Nov. 2017 luncheon in NYC. Deadline for entry is August 4, 2017.
---
Reminding investors of  job growth at Amazon. Amazon has included a January 2017 press release with the headline "100,000 jobs in the U.S." in the carousel at the top of their Press Room site.
Aligning with federal priorities.  Keeping the job growth narrative aligns aligns with the Trump administration's promise to "Bring Back Jobs and Growth."
Maintaining a CSR narrative. Also in the press R\room carousel: A press release with a YouTube video telling the story of a military spouse employed as an Amazon Virtual Customer Service representative—another signal that the company is adding some jobs even as it automates others.
Follow Sophie: @SophieMaerowitz