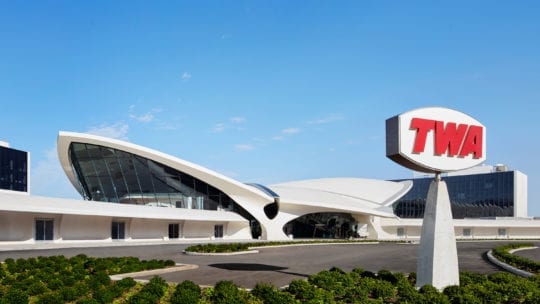 Traveling through John F. Kennedy International Airport in NY wouldn't be complete without a glance at the old Trans World Airlines Flight Center (TWA terminal). The sweeping, elliptical dome of a roof, stretching out into V-shaped wings is hard to miss, even when speeding by in a taxi.
But everything old eventually becomes new again. After laying dormant for almost 18 years, the aeronautic timepiece is reopening, thanks to innovative hotelier MCR. 
The TWA Hotel welcomed new guests through its doors on May 15, just adjacent to JetBlue Airlines at Terminal 5. 
Former TWA workers, millennial influencers, and nostalgia and travel aficionados walked through the doors of this landmark, which is also listed in the U.S. National Register of Historic Places.
How does an airline that hasn't sold a ticket since 2001 appeal to the public and resurrect a brand? We asked Sara Joseph, SVP, lifestyle & hospitality lead at BerlinRosen, TWA Hotel's PR firm of record, about how to roll out a brand that sparks fond memories and has an opportunity to tell its story to a new generation.
PRNEWS: The media is going crazy for this opening. What do you think sparked such interest? How do you sell a brand that hasn't been in operation for more than 18 years?
Sara Joseph: I've been working on this project for two years. The team decided the most important thing was recognizing affinity for the brand, at the time it was thriving. We looked at the hotel through that lens, highlighting authentic elements down to the very last penny tile, authentic pencils and rotary phones. It's not something fabricated. We're bringing real pieces of an era back.
PRNEWS: How does TWA appeal to a younger crowd?
Joseph: It's pretty magical, the spirit and enthusiasm for that brand from former employees. Many different family members talked to reporters. I think what resonated was how multi-generational it is. Parents were pilots and flight attendants, and that has been personally passed down. Also there are so many young people who now travel frequently. [Taking a flight] is like taking a bus or subway. The fact that TWA flew at a time where airline travel was so glam, there's a lot of curiosity and affinity for a brand that delivered that type of service. Whereas now, some airline brands are just a mode of transportation. TWA represented the glamour of air travel.
PRNEWS: Who is the main audience for this brand?
Joseph: We are looking at a broad audience. There are people flying in and out of JFK every day. Families, business travelers, vacationers of all ages.
PRNEWS: How did your team approach this brand, in contrast to more modern products and openings?
Joseph: We looked to develop storytelling around what is authentic and true to the brand. We recognized the magnitude [of the hotel's opening]...so we created a lot of excitement around the opening itself.
PRNEWS: What tips can you offer PR pros about how to throw a killer media launch for an opening?
Joseph: I think a sweet spot...is [having] enthusiasm for and dedication to media relations, and making sure [you] are building contacts across various verticals. What is unique about this project is it's a PR-led brand. There are no advertisements or social media. If you've heard or seen anything, it's been sparked by public relations. We strategically honed in on each reporter at each outlet who loves architecture or food and beverage or aviation and made a huge effort to talk to the right reporters...and tell the best stories. When someone has a passion for something, hitting the right contacts is the right thing. [It's important to] know who covers what, what their interests are, and hitting those journalists to tell the stories.
PRNEWS: Is there more leverage coming out of earned media or digital/social?
Joseph: It's 100 percent earned media. Our team has been pitching and pitching, securing stories, tours, putting photos in the right inboxes. It's a true exercise in the power of earned media, as it's gone international.
PRNEWS: What story is TWA Hotel looking to tell in the weeks and months to come?
Joseph: As the hotel finishes opening additional restaurants, and welcoming guests from all over the world, we'll pay close attention to how it's being received and hone in on different programing angles.