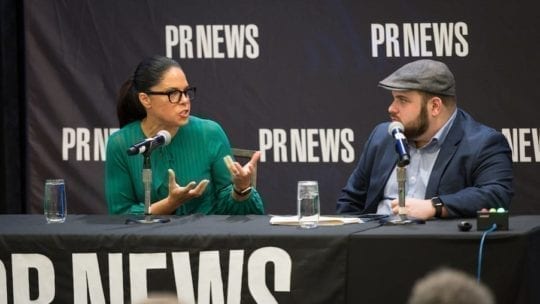 It's a good feeling when things come full circle. That was the case Friday, Dec. 13, when TV journalist Soledad O'Brien noted the importance of emphasizing people when reporting policy or issue stories. O'Brien keynoted PRNEWS' Media Relations Conference in Washington, DC.
Similarly, during last year's PRNEWS Media Relations Conference, The Daily Beast politics editor Sam Stein, also during a keynote, spoke of the tactic. Emphasize a person whose life has changed as a result of a policy decision, Stein told PR pros in 2018. "Dig a little deeper and find someone for [journalists] to profile…make [your pitch] about people not policy…that's always more interesting."
Home in Mexico, Job in CA
O'Brien illustrated with examples from her weekly morning show, Matter of Fact with Soledad O'Brien. She spoke of an affordable housing story. Instead of reciting "dry statistics" about the issue, the story focused on an American man who lives in Mexico. He commutes to daily to his minimum-wage job in San Diego. Housing is more affordable in Mexico. "I don't think he's fluent in Spanish," O'Brien said. This segment, O'Brien added, puts a face on what often is reported as faceless.
O'Brien shared another example of coverage, about an immigrant mother and her 8-year-old daughter. When the school principal had a conference with the mother, her daughter translated. When the principal mentioned an issue the girl had at school, the 8-year-old translated back to her mother, 'Your daughter is doing very well at school.'
O'Brien's larger point conveyed the power of using human experience to illustrate an important immigration issue without resorting to a faceless statistic.
Corporate Underwriting and Editorial Direction
Showing her bona fides as a journalist, O'Brien mentioned that her lean show—it has a staff of five—sometimes needs corporate underwriters. Yet she refuses to allow underwriters to dictate editorial policy. "We tell [corporate underwriters] upfront, 'We'll go where the story takes us.'" Sounding a bit like a PR pro, O'Brien said, "It's important that everyone has the same goals" from the beginning of a project.
O'Brien also made points with journalists and PR-pros-turned-journalists in the room when she discussed the show's brand filter. We don't want "breathless coverage" of news stories, or "people talking about people," she said. Those characteristics often define news coverage today. In addition, her show avoids marquee names.
Instead, O'Brien seeks stories "as diverse as America" and that provide context about the news. People "actually are interested in news beyond Donald Trump and the Kardashians…[so] we've [tried to] insert news back into the news."
Unbridled Interviews Only
Again sounding like a communicator while advising communicators, O'Brien discussed authenticity and measurement. On authenticity, O'Brien said that she refuses interviews with boundaries. She won't, for example, conduct an interview with someone whose PR pro says, 'My executive won't talk about topics A and B, but would be glad to speak about topic C.' Those kinds of parameters, O'Brien said, "don't work for me."
Regarding measurement, O'Brien keeps track "of everyone we have on the show." That data includes the date of the show, the issue, the person's gender and race. "It holds us accountable," she added.
Another PR tip: O'Brien appreciates when a pitch  includes a list of additional people [beyond the main source] whom she can talk to for a story.
"I like when [PR] people include a list of possible additional sources and say, 'Here is a list. Talk to them or not…they could be helpful.'"
For local stories, O'Brien sometimes scans social media, specifically Twitter. She said she looks for posts that mention 'things going on in my community.'
Seth Arenstein is editor of PR News.  Follow him: @skarenstein