Surely the world of PR is a sadder place upon learning that industry fixture Jack O'Dwyer passed Dec. 19, aged 85.
"He was aggressive, demanding, skeptical and committed to being first," says Andy Gilman, president/CEO, CommCore Consulting Group. Gilman adds an understatement: "Jack O'Dwyer was one of a kind."
O'Dwyer founded his newsletter 50 years ago. That led to the establishment of other publications, including O'Dwyer's Directory of PR Firms and O'Dwyer's, a monthly magazine launched 32 years ago.
"He made the industry better and helped turn it into a profession," says Rick Gould, managing partner, Gould + Partners, and a frequent contributor to PR News.
Another PR News contributor, measurement guru/CEO, Paine Publishing, Katie Paine, credits O'Dwyer for "always being an advocate for measuring PR."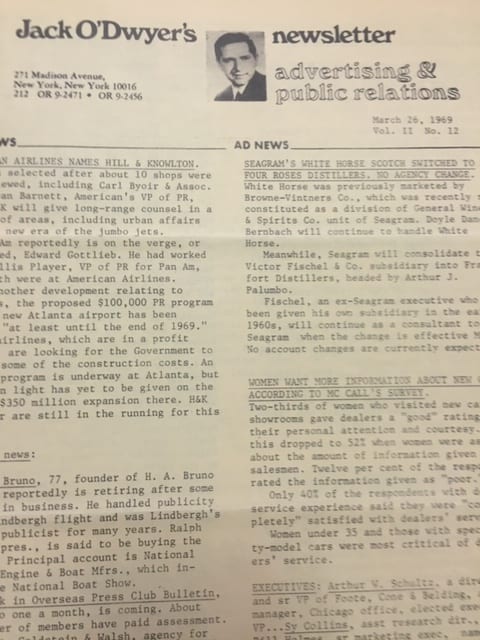 Early Days: A photo of a March 1969 edition of O'Dwyer's Newsletter. (Courtesy of the Museum of Public Relations)
Reporters' Reporter
"Aside from being a true pioneer in the field, what was so inspiring about Jack was his unyielding search for the truth," says former PR News editor Matthew Schwartz, who worked with O'Dwyer and is now director of content at Stanton. "He really was a reporters' reporter. It's the end of an era in PR."
O'Dwyer's penchant for news and the PR industry are themes many are including in tributes. "His passion for PR set a standard of excellence in reporting that has been emulated by others," says Peter Finn, founding partner of Finn Partners. "He set a level of quality and integrity in journalism that today is being upheld by everyone at O'Dwyer's."
Says Ronn Torossian, president/CEO, 5W PR, "He was a legend...who ate, slept and breathed public relations. Those of us who own firms are blessed to have had someone like Jack O'Dwyer shouting from the rooftops about PR."
Career Support
Several veteran PR pros attribute much of their success to O'Dwyer. Several also remember favors he did for them. "He was always great to me, always supported my benchmarking surveys and the niche I created in PR," Gould says.
O'Dwyer hired Gould in 1987 to write a column for the newly launched O'Dwyer's PR Services Report. "I saw the PR value in having a monthly, full-page column in his magazine...it created my brand in PR and a very nice relationship with Jack. I will always owe him for that opportunity."
Gould also recalls O'Dwyer found him his first NYC office, at 271 Madison Ave.
Look up the definition of "cantankerous" and you're likely to see a picture of O'Dwyer, or the entry for "old-school reporter,"  "pioneer," "visionary" or "good friend." O'Dwyer was all these and more.
Gilman sums up the professional side of O'Dwyer with a simple tribute: "He was a journalist who covered PR."
[This article was updated Dec. 21, 2018.]