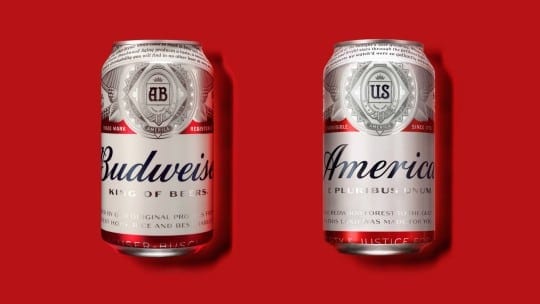 Budweiser has long liked to think itself an essential part of the American identity. In a continuation of the beer's patriotic branding, Anheuser-Busch InBev's May 10 announcement launched its boldest move yet: Budweiser will be removing the brand name from its cans and bottles, and rebranding the beer simply as "America." Recent campaigns have also seen the brand embolden images of the Statue of Liberty and the American flag on its summer special-edition cans.
Here's to America the beautiful. Hold her high this summer. #ThisBudsForYou pic.twitter.com/puATIxT0Th

— Budweiser (@Budweiser) May 10, 2016
The move comes as part of a larger summertime campaign that's running with the tagline "America is in your hands." The brand is looking to capitalize on the patriotism surrounding major events happening this summer, such as the 2016 Olympics, Copa America Centenario soccer tournament being held for the first time in the U.S. and, perhaps most important, the upcoming presidential election, according to the company's press release. 
The design of the can will remain unchanged, but company slogans and other branded copy will also be replaced with excerpts from the Pledge of Allegiance, "America the Beautiful" and "The Star Spangled Banner." The only remaining branding is the bow tie Budweiser logo on the back, according to Fast Company. 
Not many brands can pull off removing their brand name and slogans completely from their products. It's a daring move made possible by the widespread brand recognition Budweiser enjoys, but the move is still not without risks.
The move has been met with mostly negative responses, ranging from comic outrage to outright disgust and ridicule in the media and online. Even if the country isn't ready to spend the summer drinking America out of a can, the move has generated an incredible amount of coverage for the brand.
#Conan on #AMERICA & more @ https://t.co/STnVlFsJzf pic.twitter.com/o4wRFfROgN

— Team Coco (@TeamCoco) May 12, 2016
Ok, #Budweiser. Sell out to a foreign company, then rename your beer "America." That makes total sense. pic.twitter.com/p7xtQAsSzX

— Jackie Lindert (@JackieLindert) May 12, 2016
Sounds about right. Its presence is everywhere, it's tasteless, and if you consume enough you end up fighting 4 more pic.twitter.com/tiSeJeM7hu

— David Cross (@davidcrosss) May 11, 2016
#Budweiser has decided its overconfident tastelessness is the perfect icon for American culture. I do not disagree. #BudweiserAmerica

— Alexander Billet (@UbuPamplemousse) May 11, 2016
Because what's more American than a Belgian-Brazilian beverage company headquartered in Leuven, Belgium #Budweiser pic.twitter.com/F9DVPMbQ7z

— Tyler Benson (@TylerSoCA) May 10, 2016
Kudos to the @Budweiser brand team, for (once again) getting all of Craft Beer to squawk a bunch of free advertising for them. #America

— Chris McDaniel (@clearmoon22) May 12, 2016
In related news, Bud Light will be renamed Canada. #Budweiser#America

— Eric Steele (@ThatEricSteele) May 10, 2016
What do you think? Will this end in success for an international brand facing slumping sales? Or will it leave a bad taste in the mouth of the American consumer? 
Follow Mark: @MarkRenfree