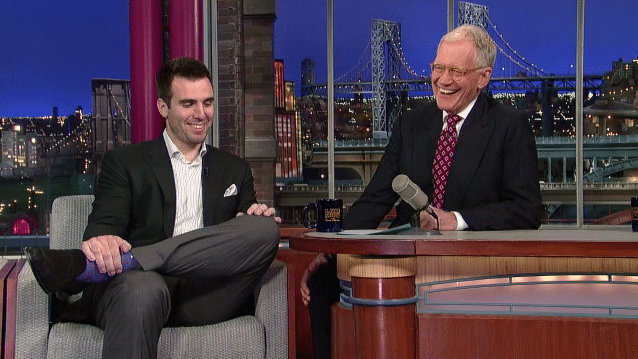 Feel-Good Flacco: Super Bowl MVP Joe Flacco's media tour included a
stop in New York for the "Late Show with David Letterman." Source: CBS
With every Super Bowl MVP performance comes a super-sized media victory tour.
Ravens quarterback Joe Flacco, who won the MVP award after completing a postseason with 11 touchdown passes and no interceptions in four games, began his own victory media tour on Monday, Feb. 5 (not 24 hours after the Ravens were crowned Super Bowl champions).
Flacco, who stands to earn a large contract in free agency this offseason, first received the keys to a 2014 Corvette Stingray as a prize for winning the MVP in the Super Bowl. Then he went to Disney World and paraded down Magic Kingdom's Main Street. The day was capped off in New York, for an appearance on the "Late Show with David Letterman."
And that's likely just the start. On Tuesday, Flacco and his teammates will march through Baltimore for a victory parade.
Six endorsement proposals had flooded in before noon on Monday after the game, according to his marketing agent, Tom Kleine. Invitations to attend award ceremonies and appear on magazine covers are also flooding in, according to The Baltimore Sun.

However, his father, Steve Flacco, told The New York Times: "Joe is dull. As dull as he is portrayed in the media, he's that dull. He is dull." And while Flacco may have been in the Ravens' trainers' hands all season, his efforts under the white-hot lights of the media now put him in the PR department's hands.
Here are 7 tips in handling an athlete on the media circuit:
Don't have your office sports junkie accompany the athlete on media interviews. You want a media savvy staffer who will critique each interview and not be afraid to make suggestions prior to the next one, instead of engaging in sports talk.

Be specific in your legal agreement with exactly what is expected of the celebrity. Establish the number of appearances and number of production dates.

Establish guidelines for approved media outlets, journalists and bloggers. Celebrities often have preferences about which media outlets they want to engage.

Clarify the celebrity's role at appearances. Ensure he or she is comfortable with your expectations long before the event takes place.

Provide message training before any celebrity appearance. For Flacco, this would include shoring up his points on discussing free agency and a new contract, and an insider's take on the power outage during the Super Bowl.

Get to know the celebrity's other endorsement deals. Look for opportunities for co-branded campaigns.

Keep it real. At the end of the day, these are real people with real feelings and real needs. PR pros need to treat them like real people.
Follow Bill Miltenberg: @bmiltenberg