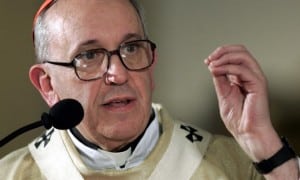 If there's one example that PR pros can now use to convince their CEO of the power of social channels, they need not look no further than the election of Pope Francis.
The news that Jorge Mario Bergoglio, the 76-year-old cardinal and archbishop of Buenos Aires, Argentina, would take over the papacy was announced Wednesday via the Vatican's official Twitter account (@pontifex handle), after the smoke signals billowing from the Vatican, connoting that a new pope has been elected.
Pope Francis is the first leader of the church to come from the Americas, home to nearly half the world's 1.2 billion Catholics.
The new pope certainly has his work cut out for him, what with the Vatican facing "vexing problems" such as banking coverup charges to damaging internal leaks, according to USA Today.
While on a different scale—few chieftains spend their working hours in prayer—communications execs should be able to relate to the initial challenges of transitioning the new boss.
PR News spoke with PR veteran Drew Kerr, lead public relations counsel for Four Corners Communications, about the role that senior PR exec can play in helping with such a such a transition:
> Strive to sustain any initial goodwill that accompanies the new CEO as he or she takes charge, Kerr says. Help to communicate thanks to the company's constituents and stakeholders. Be sure the CEO doesn't spew a bunch of platitudes, which, if the company doesn't deliver, can come back and bite the boss (and the company).
> Upon the CEO's arrival avoid specifics about what direction the boss will take the company until he or she is settled and firmly in place, according to Kerr.
> Embrace social media. Try and harness the number, say, of followers the boss has on Twitter or "likes" on Facebook to start a conversation and spread the initial messages, Kerr says. Also, use social channels to demonstrate that the boss is accessible and is well versed in social networking.
Follow Matthew Schwartz: @mpsjourno1
Follow Drew Kerr: @drewkerr