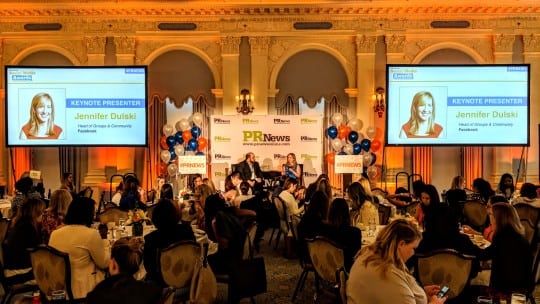 Each year, PR News celebrates outstanding social media campaigns on Facebook, Snapchat, Instagram and Twitter. On May 23, 2018, PR News once again honored top social media campaigns at the Yale Club in New York.
The winners of PR News' 2018 Social Media Awards span a wide variety of organizations, from brands like Volvo, PepsiCo, JP Morgan Chase & Co., IBM, Cisco and Bayer to agencies like Rogers & Cowan, SHIFT Communications and Weber Shandwick. The winners were judged on their ability to meet their campaign objectives and on the originality and creativity of their social media tactics.
PR News content manager Justin Joffe kicked off the luncheon with a keynote fireside chat with Jennifer Dulski, head of groups and community at Facebook, who spoke about how Facebook Groups can be the perfect place for all kinds of companies to build and grow communities.
Dulski, formerly president and COO of Change.org, also discussed her recently published book, "Purposeful: Are You a Manager or a Movement Starter?" When asked what really makes the difference between a manager and a movement starter, Dulski said, "Managers do the best with what they're given. Movement starters are the people who don't accept the status quo, who push the boundaries of what's possible," she said. "I believe it's always OK to push—it all depends on how you do it."
When it comes to building a movement on social media, Dulski explained that every successful movement is comprised of three main components: a clear vision, a purpose and a compelling story. But, she said, that's not enough to sustain it. "All successful movements are started by individuals who care about a cause, but they don't become movements if they don't have people supporting them and following them."
At the May 23 luncheon in New York, the Social Media Award honorees inspired their peers with their accomplishments as well as their thoughts on what really makes a social media campaign successful.
Casie Shimansky, social media manager of Cisco's talent brand, revealed her biggest "Aha!" moment upon accepting the award for best Facebook Live campaign for Cisco's "Culture Contributors" campaign. "We've learned to trust our employees to share our stories. We hand over the keys [to our social media handles], we let them sign in, we let them share their experiences. And that's gotten us to where we are today with showing what it's really like to work at Cisco."
Gerard LeFand, executive vice president, client experience digital at Weber Shandwick, which won the award for the best promoted post on Facebook, had his own "Aha!" moment to share. "I realized that listening on social media was just as important as talking, and that's been transformative for our brands."
Rogers & Cowan's Craig Greiwe, who accepted the award for the best Instagram marketing campaign for the company's Sports Illustrated Swimsuit 2017 launch campaign, said he, like Dulski, found that thinking outside the box was the key to success. "We're looking at using nontraditional social media platforms like Venmo—things people use like social platforms but aren't Facebook, Twitter, or Instagram."
See all the winners and honorable mentions for PR News' 2018 Social Media Awards.