Download PRNEWS' 2018 Graduate Guide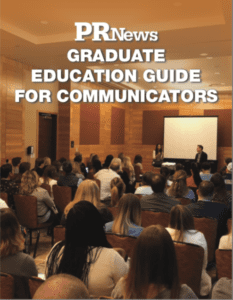 A career in PR can encompass so much—writing, social media, analytics, business strategy, crisis management, media relations, video and podcasts, for starters.
PRNEWS' Graduate Education Guide for Communicators looks at the career benefits of pursuing a master's degree in communications and how it can be a differentiator in the talent marketplace.
Advice from these communications professionals and more:
-Carolyn Hedges, Syracuse University
-Suzanne Swink, BP
-Larry Parnell, George Washington University
-Kati Fernandez, Hulu
-Bart Collins, Purdue University
To view all of the findings from this Graduate Guide fill out the form below.