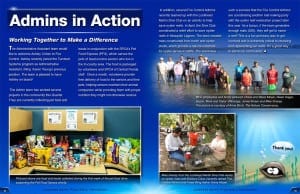 Fire Control Focus, a quarterly publication catering to workers at Lockheed Martin who work on the company's "Fire Control" programs, launched in 2004 as a PDF file emailed to employees. For the first few years the e-newsletter had a tough time connecting with its audience, which is made up of 2,000 employees working in Lockheed Martin plants in Southern California and Florida. Part of the problem: Stories were displayed on a stark white background sans any interactive content—the digital equivalent of watching paint dry.
"It was too text-heavy and needed a new look," said Molly Townsend, manager of advertising and marketing at Lockheed Martin, referring to the need for a redesign.
More specifically, the redesign had two business objectives:
• Expand the newsletter's outreach and connect with at least 30% of the 2,000 Fire Control employees.
• Boost the number of visitors for the newsletter through offering interactive content and online video programming, track readership metrics, and capture/compare the number of page visits per issue.
VISUAL STORYTELLING
Lockheed Martin kicked things off in 2011, when the company conducted an extensive survey of fire control workers to see what kind of changes they would like to see in the newsletter and how the product could foster a better sense of community.
The results of the survey were put to use in reconfiguring the newsletter, with a strong emphasis on visual storytelling and interactive communications. "Research was critical to the process," Townsend said. "That led to using new software, which enables all the video and the look-and-feel of the newsletter, which certainly helped with the buy-in" from employees.
The new incarnation of the newsletter, which rolled out in late 2011, is a significant departure from the previous one.
It was redesigned in an online format, which enables Lockheed Martin to track metrics by page clicks, of course, but also include richer media and interactive design elements that readers of all stripes now crave.
The layout, white text accompanied by a sky blue background, has also made for better visuals and presentation.
The newsletter team is comprised of a creative graphic artist, an editor and a co-editor, along with contributors from the communications teams.
Each issue is composed of three sections:
• The Fire Control VP editorial section, which provides insight into leadership decisions, strategy and the defense environment (the Pentagon being the company's sole customer).
• Video and animation are used to show examples of technological breakthroughs at the company and make success stories more tangible for a broader audience. The newsletter also uses video and interactive design to promote teamwork.
• In-depth, often technically focused feature articles, homing in one of Lockheed Martin's programs. Feature articles range from stories covering systems upgrades, updates on new military contracts and major program milestones. The newsletter also runs "soft" features such as employee profiles, coverage of junior achievement and charitable efforts.
The revamp was a "way for us to relay the messages to our employees and highlight our programming," said Allison Rivera, senior communications lead at Lockheed Martin, who added that giving the e-newsletter a serious facelift "made it look more dynamic and made people want to read it."
NOT STATIC
Aside from a sharper editorial focus, technology has had a great deal to do with taking the newsletter to a higher level.
Here's why: The new version of the newsletter is a Shockwave Flash file posted on SharePoint, which offers users the ability to use animated graphics, page turning, dynamic photos and video clips.
"Before it was static, now it's fully animated," said Gary Merrick, senior graphic designer of Fire Control Focus.
To smooth the transition from PDF to Shockwave Flash output, the editorial staff created a checklist of objectives and processes, from start to finish.
Using SharePoint, Merrick said, has been a boon to the distribution of the newsletter. "By using this file size we don't have to worry about the newsletter being too big," Merrick said. With the new format, the newsletter gets distributed using an email graphic containing a link to the newsletter.
Whether it's younger employees who appreciate the interactive elements that are baked into the newsletter or seasoned professionals who value the newsletter's strategic insight, the new version of Fire Control Focus has attracted widespread attention among Lockheed Martin's fire control employees.
Still, it was a challenge exposing more employees to the newsletter.
The editorial team was able to overcome the hurdle by working with the VP of Fire Control on various employee events, such as building a better workforce via diversity, to create stronger ties between employees and the publication.
The newsletter also gets a plug, including PowerPoint slides, during staff meetings.
TURN THE PAGE
In order to evaluate the employee communications program, Fire Control Focus initiated a survey to gauge readers' impressions of the changes.
Following the redesign survey results grew by more than 190%, with the bulk of the responses in a positive vein.
Employees pointed to the bold new look of the publication and a better understanding of the business and their role as contributors to the business.
Some of the other results include:
• Expanding outreach. Combining SharePoint metrics for the first and second quarters of 2012, the publication reached 768 employees, exceeding the goal of 30% of the Fire Control population.
• Boost in visitors. Focusing on the second quarter issue alone, the team determined that there were 559 unique visitors, which is nearly 73% of the total unique page visitors and more than double the number of unique visitors from the first quarter.
"Through word-of-mouth, workers are more vocal about the newsletter now," Rivera said. "We've compiled a line of business into one [news] outlet. From the employee perspective, it's nice to get everything from one package."
New (PR) Recipe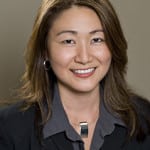 In the current business climate, employees are forever distracted by deadlines, customer needs, long teleconferences, weekly meetings and HR requests, among other demands. How do you push out your news and engage your readers? These three tips can help keep your internal newsletter both fresh and exciting.
1. Use high-end ingredients. Write juicy articles that matter to your readers. The quality of your newsletter is directly related to the quality of your articles, the importance of the information and your graphic images (static and animated). Use dynamic, impactful graphics that are relevant to your story. The overall look should add to your brand. Don't forget to sample your "ingredients"; that is, make sure your videos and animations work on all platforms.
2. Finely chop. Write shorter articles that cut through the clutter. Lists ("Top Five Ways to…") and quizzes (like BuzzFeed.com) are a fun way to quickly share short, consumable content. Try to keep videos at two minutes or less; they should be created like marketing videos. Even if your newsletter is hard copy, make sure it can be Web-adapted.
3. Blend well. Your newsletter should be a healthy mix of text, graphics and multimedia. Too much of any element will leave your reader bored or annoyed. Animations should be used sparingly as an enhancement not a distraction.
Ultimately, a well designed newsletter should be planned in advance. A lot of design choices are made through trial and error. And, of course, always ask for feedback from the rank-and-file. The best way to juice up your newsletter is through continuous improvement.
This article was written by Molly Townsend, advertising and marketing manager for the Missiles and Fire Control division at Lockheed Martin.
CONTACT:
Gary Merrick, gary.merrick@lmco.com; Allison Rivera, allison.rivera@lmco.com; Molly Townsend, molly.m.townsend@lmco.com.
---
This article originally appeared in the April 14, 2014 issue of PR News. Read more subscriber-only content by becoming a PR News subscriber today.