File this under 'The more things change the more they stay the same.' Hardly a week goes by without a drumroll for a new discipline that PR managers have to master instantly.
One week it might be how to get a better handle on the paid-earned-owed-media mix that increasingly is defining integrated marketing. Another week it might be how to meld six-second Vine videos into the marketing mix or create a social media campaign for Facebook, Twitter, et al. And, of course, there's no shortage of advice regarding how PR pros should be improving their analytical skills. But, through all the upheaval in marketing communications, press releases remain the key for brands and organizations wanting to spread a message.
While the demise of the press release is greatly exaggerated, ongoing criticism of it remains. Many press releases, regardless of the sector, continue to suffer from flowery language, jargon and buried leads (when the real news is stuck in the penultimate paragraph), among other shortcomings.
Reinvention aside, press releases need to adhere to basic editorial principles, as shown below.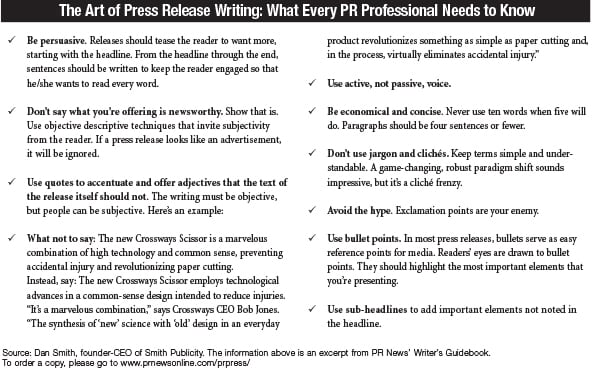 This article originally appeared in the April 27, 2015 issue of PR News. Read more subscriber-only content by becoming a PR News subscriber today.