What is the most mythical yet oft-spouted term in PR today? No, it's not "Winning." How about "ROI"? Demonstrating return on investment in public relations is one of the most elusive goals for communicators. Actually, just setting a consistent definition for ROI is equally as elusive.
"In general, PR uses the term ROI way too loosely," says Tim Marklein, executive VP of measurement and strategy at Weber Shandwick. "People will throw in the notion of ROI when they're actually thinking about returns and results that are not financially calculable"
That was the point made by PRIME Research CEO Mark Weiner in a PR News Myth of the Month piece (PRN 04/04/2011 issue), in which he wrote that ROI is financial measure that reflects the degree to which revenues are earned or saved. PR pros, continued Weiner, often mistake ROI with the "value" of PR.
That said, work is being done now by measurement experts that just might clarify ROI vs. value, and give PR pros a template in which to prove demonstrable ROI—financial or otherwise.
A committee set up by the Council of Public Relations Firm's chairman Andy Polansky, president of Weber Shandwick, is currently developing methods that aim to help PR pros measure ROI and engagement, says Marklein, who is on the committee.
The effort is based on the fact that PR has not fully embraced measurement. "But we're seeing that is changing, and the timing is right to provide better methods and guidance to PR," says Marklein. "We all need to be speaking the same language."
The committee's goal then, is to establish guidelines for calculating both financial and nonfinancial PR returns. "If we want to be part of the business results, we must be able to discuss ROI clearly and consistently," says Marklein.
It's clear to Marklein that when ROI is discussed in the C-suite, it's all about dollars—dollars in, dollars out. "The return can be money earned or money saved," says Marklein. "Unless you have a dollar value, you're not going to get to a true ROI calculation."
Marklein has been following the work of Dr. Tom Watson, a professor in The Media School at Bournemouth University in the U.K. Watson has been investigating ROI in PR since 1992. At the end of 2010, he did a snapshot survey of what ROI means to PR pros in the U.K. and Europe (see the pie charts for specific results). His findings confirmed to Marklein that ROI needed to be defined.
The survey found the most common concept applied to ROI by PR pros is "ROI = AVE divided by PR budget," says Watson. There goes that AVE thing again. "I call it the monster from the lagoon," he says.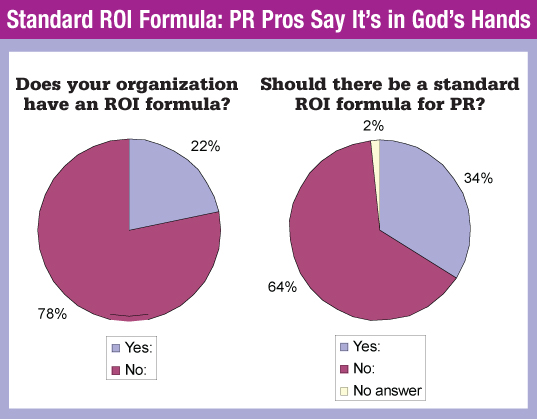 Late last year, Dr. Tom Watson, a professor at The Media School at Bournemouth University in the U.K., fielded a survey in Europe among PR agencies and corporate/government/nonprofit PR pros asking them their thoughts on ROI. While the majority of respondents did not have an ROI formula (left), the majority also indicated that there shouldn't be one standard formula (right). Why? A number of respondents that answered "No" indicated that "one size does not fit all." Of those that answered "Yes," some said "God knows what it would be." Source: Dr. Tom Watson, Bournemouth University
WHERE CREDIT IS DUE
Beyond AVEs, the hard part of PR ROI is the issue of attribution, says Marklein. Who gets the credit for what? In today's world of the integrated branding campaign that might drive $100 million in sales, how do you attribute that figure to different parts of the communications mix? "Most PR pros aren't able to do this," says Marklein. And complex marketing mix models mostly reside on the consumer side.
Ruth Pestana, worldwide director, strategic services at Hill & Knowlton, agrees that splitting up PR outcomes from marketing efforts is difficult. But H&K strives mightily to show the business or organizational outcomes achieved—and that includes financial and non-financial returns. "We take a cascade approach, looking at results in multiple dimensions," says Pestana. "When there's movement on several levels of a campaign, we can show that PR has had an effect."
Pestana says it's important to remember that every PR action can't result in a dollar return. "It could be about a client's better relationship with stakeholders that may block a piece of legislation," she says.
SAVINGS PART OF THE MIX
And, according to Marklein, return isn't the only ROI metric that PR pros should concentrate on. Cost savings metrics can be significant, particularly in this time of pared-down budgets. "The ability to change behaviors—to get people to do things online instead of on the phone, for example—is critical," says Marklein. Enabling customers to solve their problems via online forums can also have an ROI impact, he says.
WORK GOES ON
Marklein says preliminary ROI benchmarks will be released in the next few months, with the following goals:
• Give PR pros the confidence that they're matching the right ROI metrics with the right campaigns.
• Supply them with methods and approaches to do it.
• Arm them with the language and ammunition to have discussions with the CFO, COO or the CEO about PR cost savings and revenue.
One important point to remember, says Watson: One size does not fit all. It comes back to being able to demonstrate value or contribution. And not always from a financial perspective. PRN
CONTACT:
Tim Marklein, tmarklein@webershandwick.com; Dr. Tom Watson, twatson@bournemouth.ac.uk; Ruth Pestana, ruth.pestana@hillandknowlton.com.