Don't freak out! Easier said than done, considering there are so many tools available for social listening and a growing number of Key Performance Indicators (KPIs) being applied to social platforms. Adding to the anxiety is the explosive growth of social media activity and that you're not only supposed to monitor social traffic but monetize the tools you use to do so. What's a PR pro to do? First, breath deeply, then realize "listening [to social] is fundamental to brand building," said Enric Llopart, senior VP, head of digital for Latin America Edelman. "You need to understand more than ever what is going on around your brand and your consumers, and we've never had…as many tools to grasp that."
Next, realize there are too many tools and KPIs. Match tools to "key questions [you and] the client [are asking] and the budget." (Some of the better tools, per Llopart, are shown on the accompanying chart.) "We're too comfortable" with existing KPIs, he added. PR pros should use their imagination and ask additional questions to gain better insight about how social channels are performing. Also realize that most KPIs are "missing a key point." KPIs are a good start, but don't be beholden to them. For example, if your KPIs are monthly volume of mentions and share of voice versus competitors, key questions should be: What did people say about our products online? What was said about our competitors?
"You need a deeper understanding of these questions to connect with your audience," Llopart said. "What are people's motivations and interests? What are the societal tensions?" Llopart's other chart breaks out reporting formats based on how often you analyze social media metrics. It also shows how to convert that information into material relevant to senior managers. Llopart spoke during PR News' Digital PR Conference last week, sponsored by 3BL Media, Business Wire, Cision, Onstream Media and Miami International Airport.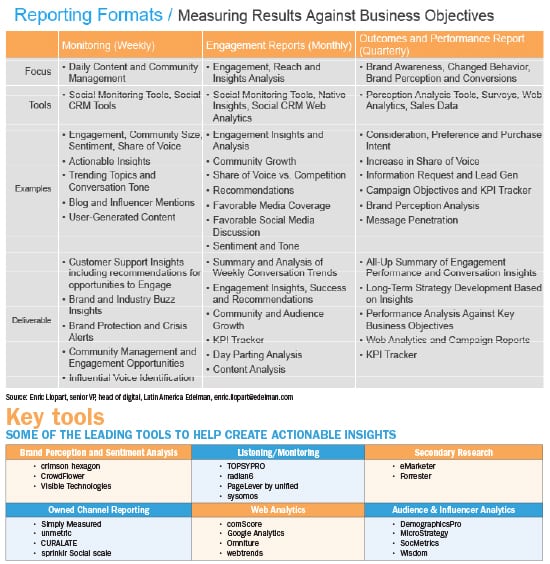 This article originally appeared in the June 8, 2015 issue of PR News. Read more subscriber-only content by becoming a PR News subscriber today.