Bigger is better, right? When it comes to PR and marketing agencies, larger shops often have a leg up on smaller competitors because they offer clients scale as well as access to the growing number of disciplines that now are firmly part of the PR wheelhouse, such as social media, online video and blogging. But gathering more talent needs to be offset by a boost in billable hours or profits suffer. That concept has been missing at larger PR firms, according to a new financial benchmarks study conducted by Gould + Partners for PR News.
Operating profits for agencies with revenue between $10 million and $25 million fell 1.6 percent in 2014, while larger agencies, with $25 million or more in revenue, saw profits drop 2.1 percent, the study showed (see chart below). "The larger firms have gone through major investment in top-line growth, impacting the bottom line," said Gould + Partners managing partner Rick Gould. "This was a result of increased investment in labor costs while holding a constant operating expense ratio."
There may be a gap between the costs that agencies pay for salaries (roughly 57 percent of overall expenses) and billable hours posted by salaried employees. PR managers need to plug that gap. "[PR agencies] need to monitor salaries, but also look at billing rates and utilization," Gould added. "Account staff engaged in client work should be logging 1700 client hours a year and 90 percent of that (1550 hours) should be billable." Total operating expenses, or 26 percent of net revenue, are not the culprit. "That leaves 74 percent of net revenue to cover labor costs and profits," he said. "By keeping labor costs at a max of 54 percent, most PR agencies will achieve 20-plus percent profitability."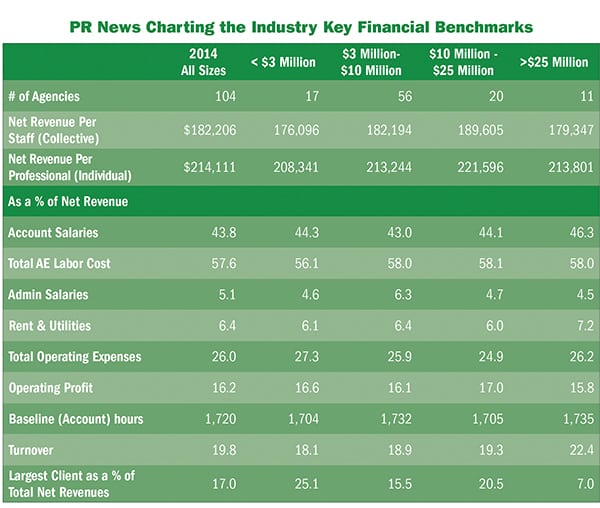 This article originally appeared in the July 20, 2015 issue of PR News. Read more subscriber-only content by becoming a PR News subscriber today.