Winner: AEG Sports - 2012 Stanley Cup Playoffs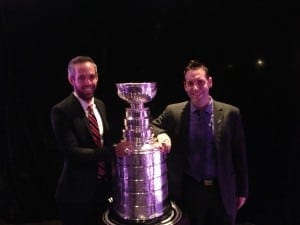 When the L.A. Kings made the 2012 Stanley Cup Playoffs, Dewayne Hankins, the team's director of digital media, decided it was time for the hockey club to make a bold statement via Twitter while in the L.A. and national spotlights. With the objective to be bold, unafraid and tell it from the viewpoint of a hardcore L.A. Kings fan, the Kings' digital team engaged fans with timely, witty, humorous and sometimes controversial Twitter posts.
The Twitter effort started off strong after the Kings' opening-round playoff win over the Vancouver Canucks. The Kings' post-game tweet caused a stir in British Columbia: "To everyone in Canada outside of BC, you're welcome." The message was retweeted more than 19,000 times, and prompted the Vancouver Sun headline: "LA Kings Taunt Canucks Fans on Twitter."
Then, more playful than biting, actor Rainn Wilson tweeted that he had never been to a hockey game before, but he was "considering getting some tickets 4 Sunday. Should I go? What's the puck made of?" The Kings replied with: "We can give you tickets, if you let us deliver them to you in a bowl of jello." And so the team did, sparking stories on sports blogs and in USA Today.
This and other Twitter plays drew raves from the media, including Mashable, which said: "The NHL's Los Angeles Kings, however, are tearing that playbook to bits—and it's working. The Kings' Twitter account and social media team have an unabashedly biased voice, regularly poke fun at opposing teams' fans and hometowns and pull comedic stunts other pro sports teams would likely deem too lively."
In all, there were 1.4 million @LAKings mentions—800,000 more than the any other Stanley Cup playoff team—and 146% growth (100,000 followers) in two months. Oh, the Kings won the Stanley Cup, too. —Scott Van Camp
Honorable Mentions:
· Bloomin' Brands - 40 Gifts for Dave
· SAP - #SAPChat