Winner: Walmart - Walmart Green Room: Creating a Sustainable Conversation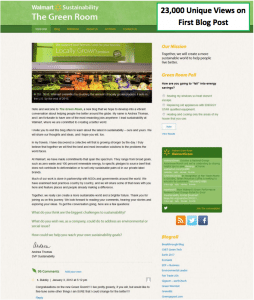 For years Walmart has tried to show its customers and the media that it has been serious about sustainability and protecting the environment, and that its sustainability efforts directly align with its core mission to provide low prices for its customers. But ever since it released its ambitious sustainability goals in 2005, Walmart has been hit with wave upon wave of greenwashing accusations. To counter those accusations and shift the conversation to the real progress it was making in its sustainability efforts, Walmart aggregated its content about sustainability in a central blogging hub called the Green Room.
This sustainability hub, launched in 2012, is targeted primarily at third-party influencers such as independent sustainability bloggers, but consumer outreach was woven into the overall strategy. The inaugural post was from Andrea Thomas, Walmart's SVP of sustainability, who described blog's mission and reaffirmed her personal/professional sustainability commitment. Blog content often relies on graphics and engaging posts with consumer appeal. The Green Room was cross-promoted on Facebook starting in April with kid-friendly graphics and polls ("Which Green Superhero Are You?"), the @WalmartGreen Twitter handled was launched in July and in September a Green Room-related Pinterest contest was launched.
Blog posts are often tied to news stories, and when Bill Clinton promoted the Clinton Global Initiative on The Daily Show with Jon Stewart and praised Walmart's sustainability efforts, Walmart seized the opportunity with a blog post linking to the segment.
Will the Green Room put an end to the accusations of greenwashing? Perhaps not completely, but the goal of shifting the conversation among third-party influencers has been met. Feedback on blog posts has been 80% positive, and traffic was boosted from online coverage by media, such as Andrew Revkin's "Dot Earth" blog in The New York Times, Treehugger and Triple Pundit, raising attention from reliable sustainability influencers. Since launch, traffic has surged 614%. —Steve Goldstein
Honorable Mentions:
American Institute of Certified Public Accountants - AICPA Insights

Bayer CropScience - Thought Leadership Hub

Cision

Finn Partners – Making Michigan Healthier, One Click, Video and Moustache at a Time

Microsoft Latinoamerica – Microsoft Latin America Blogs

SAP – Business Innovation Blog from SAP

San Diego Gas & Electric - Postcards from Superstorm Sandy

What's Up USANA?