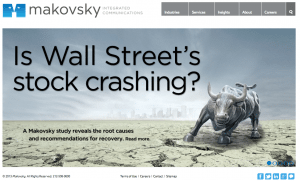 Winner: Makovsky
As a leading independent communications consultancy, Makovsky has designed and implemented excellent websites for its clients. But in working to improve others, their own website fell behind.
The agency used research to gauge user interaction with the existing website, and understand what to improve. In response, Makovsky created a new design that was more simple, crisp and clear to potential clients.
The original site divided navigation by Health, Financial Services, Professional Services, Technology, Digital Branding and Energy industries. This resulted in too many layers of information and a complex navigation. Instead, Makovsky chose to reorganize based on industries, services, insights and community. They devoted the majority of the home page real estate to a large, attractive rotating carousel of images that showcase their latest surveys and client successes.
As a result, pages per visit jumped from 2.41 to 3.29 (36.62%); average visit duration increased from 00:02:02 to 00:02:45 and bounce rate dropped from 52.96% to 39.54%.
Following the overhaul, Makovsky was able to close nearly one out of every three sales leads. That meant every time a prospect contacted the agency, there was a greater than 30% chance they would ultimately become a client. The website was able to engage and attract clients on a new level, allowing for greater success overall.
Honorable Mentions:
Henson Consulting
INK Public Relations
ReviveHealth