There is nothing that makes a Millennial break out into a cold sweat more than the thought of being chained to a desk for eight (or more) hours a day. It isn't that we aren't appreciative of the job, but how can we be expected to think "outside the box" when we're being asked to do all of our work inside of one? PR requires creativity, and it can be hard for anyone, especially Millennials who need constant challenges, to come up with an award-winning idea when our senses are being numbed by the soft glow of a desktop. It is this widespread rationale that will effectively end the 9-to-5 (or 9-to-9) that PR professionals are used to.
A recent Millennial Branding report found 45% of Millennials will choose workplace flexibility over pay, and this is a mentality that can be attributed to the "gig" economy they helped create. Remember that during the recession, Millennials relied heavily on multiple freelance jobs to support themselves. They worked from home, set their own schedules, made decent money and got the job done. When they finally land that full-time 9-to-5, they retain the freelancer mindset. It doesn't make sense for them to sit in a cubicle for eight hours, when they did the same work, if not better, in five hours.
The second feature Millennials are seeking is economic security. Millennials entered the job market in the wake of the recession, and the current unemployment rate for 20-to 24-year olds is nearly 13%. This has conditioned Millennials to expect economic disruption, which leads to a very creative, but risk-adverse demographic. Why do you think 58% of Millennials self-identify as entrepreneurs or freelancers? There is a certain amount of comfort that comes with feeling like you are in control of your financial destiny.
The final and most surprising aspect related to the 9-to-5 upheaval is that Millennials are seeking work with a greater purpose. We have been dubbed a generation committed to change. Seventy-two percent of students consider having "a job where I can make an impact," to be very important or essen ial to their happiness.
According to the Millennial Branding report, the primary indicator of whether Millennials stay at a company is if there is a "good cultural fit."
They increasingly require some aspect of personal fulfillment from their jobs, and are willing to walk if they do not find it.
A HAPPY MEDIUM
I certainly understand our boomer and Gen-X managers' hesitation to let us roam free. After all, we have clients to serve, deadlines to meet, and PR is a team sport.
We thrive off interaction with our peers to find solutions to clients' challenges. However, those who are completely resistant to change should consider the numbers.
This year, 60% of the domestic workforce will be Millennials. And in 13 years we will be 75% of the global workforce. Instead of prolonging the inevitable, there are a few proactive approaches that could help.
1. Cut the cord. Think about telecommuting as an option for those who have proven that they can manage that environment. Millennials work well with clear instructions and deadlines.
If we know what is expected of us and when it's due, why does it matter where and how we complete the task? I could churn out a proposal while I'm sipping a latte at Starbucks or my home office.
Plus, many of the assignments that junior level executives are asked to manage (pitching, building media lists, story mining) don't require being in a cubicle; all we need is a laptop and a solid Internet connection. Creating an accommodating work environment gives Millennials the perception that their employers are flexible. It will help foster loyalty.
2. Invest in technology.
Millennials are a tech savvy generation, and we are always connected to our careers through phones, laptops and tablets. Technology has made the traditional 9-to-5 model blurry for everyone, so no one is ever really "off the clock." Consider giving your Millennials company laptops or office mobile phones.
Before balking at the thought of shelling out money for new laptops, think of what you'll be saving in the long run.
Eighty- seven percent of companies who have lost Millennials have attributed it to inflexible working environments. They reported a cost of between $15,000 and $25,000 to replace each lost Millennial employee. A $2,000 computer is well worth the cost of keeping a Millennial, rather than paying $15,000 to retrain another person.
3. Balance, balance and balance. We are used to cramming our lives with multiple activities. We work hard, but we aren't into the 60-hour work weeks defined by the baby boomers.
Home, family, spending time with the children are just as big a priority as that PowerPoint presentation. Create a sense of work-life balance that reflects the demands of your Millennials' everyday lives. If they prefer to have an earlier day so they can pick their kids up from daycare, change their hours to meet that schedule.
Remember: Embracing the change of a flexible work environment can only help.
From a financial perspective, it is more cost-efficient. But from a cultural perspective, it is showing your Millennials that you have an appreciation for our lifestyle. Our workplace needs aren't radically different from our boomer and Gen X counterparts. We're just trying to meet our needs in different ways. PRN
CONTACT:
Glynn Murph is senior account manager at Edelman Atlanta. She can be reached at glynn.murph@edelman.com.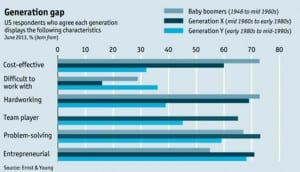 We are all aware of the generational gaps that exist in the workplace, especially when you have colleagues who were born in 1964 working with those born in 1984.
This chart, which was compiled by data from Ernst & Young, shows the characteristics of each generation. Millennials, or "Hoodies" as they are referred to by the study, are highly entrepreneurial and not viewed as team players. Boomers, or "Old Fogies," are seen as hardworking, cost-effective team players. When these characteristics are examined a little deeper, they translate into the "wants" that shape our ideal work environment.
So how do you create a harmonious work environment when all these people are battling it out?
There is no right answer to this question, and that is OK. No working environment is "perfect," but about reasonable customization. Work with your employees, regardless of their generation, in order to create an environment that will meet their needs. The result is productive and attentive employees and satisfied clients. — G.M.
This article appeared in the October 21 issue of PR News. Subscribe to PR News today to receive weekly comprehensive coverage of the most fundamental PR topics from visual storytelling to crisis management to media training.