Transparent Burrito: Kudos to Denver-based Chipotle Inc., specifically its communications director Chris Arnold. Two weekends ago the burrito maker proactively closed 43 restaurants in OR and WA when health officials alerted the casual dining chain that they were investigating 20 cases of E. coli initially linked to six [now confirmed to be eight] Chipotle outlets in those markets. OR health officials said on Halloween three people in the Portland area and 19 in WA became ill after eating at Chipotle restaurants since Oct. 14. [Those figures also have risen since the story broke.] In the midst of this commotion Arnold responded to us quickly, answering questions about how much of Chipotle's reaction to the crisis—which has been good, so far—came from a prepared crisis plan. "It was a combination of planned and extemporaneous response, as I imagine the management of many issues are," Arnold said. "The decision to close 43 restaurants when only six [now 8] had been linked to this issue was a game-time decision based on the information available at the moment, and a desire to do the right thing under the circumstances. The communication and response pieces have flowed more directly from our crisis plan." Not only did Chipotle act quickly to close the restaurants, Arnold's initial statement, sent on request to media, took the right tone. It was apologetic and informative. "While this issue is in the early stages, we thought it was important to take swift and decisive action, and to provide a statement on those actions," he told us. Later last week Arnold contacted us to say the company had created a site, http://chipotle.com/update, for the press and public. It answers questions about the E. coli outbreak, provides useful information and includes updates about additional steps Chipotle voluntarily has taken to insure against a future outbreak. These steps, the site says, include "conducting additional deep cleaning and sanitization of our restaurants in the area; testing food in our restaurants and in our distribution center; discarding all food items in the temporarily closed restaurants, out of an abundance of caution; working with health officials as they conduct the investigation; retaining two preeminent food safety consulting firms (including Seattle-based IEH Laboratories and Consulting Group) to help Chipotle assess and improve upon our already high standards for food safety." Yes, the E. coli outbreak is a blow to a former Wall St. darling that's been dealing with slowed profit growth and experienced other food-related health issues last summer, but the chain's transparent communications is preparing it for better days. As Arnold told us, "Right now, the priority is to work through the investigation so this can be resolved."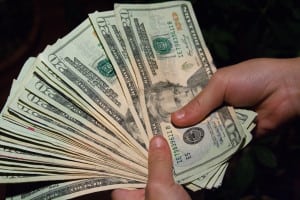 COD: What do influencers most want? Money. A survey of 5,000+ influencers shows monetary compensation for services tops their list. And they prefer it on a per-post basis instead of affiliate partnerships, ads on their blogs or free product. Some 75% are unsure or believe they are being unfairly compensated. The survey also indicates influencers are careful about brands they associate with, preferring those that are authentic to their interests. Nearly 85% of influencers accept payment for posts, and the average cost for a sponsored post is $200-$500. Software firm GroupHigh sponsored the survey.
Platform Prater: They've got to be hurting at Twitter. We told you last week about its disappointing earnings. Nearly all of rival Facebook's numbers were excellent last week. It posted an 11% rise in earnings for Q3 thanks mostly to increased ad spending. Revenue jumped a higher-than-expected 41%, to $4.5 billion. The bad news came from costs and spending, which rose 68% due to a plethora of projects. Late Wednesday Facebook shares soared to a record high of $105.97. Gaudy user figures exceeded the financials. Facebook said 1.55 billion people use it at least once monthly and 8 billion videos are viewed. There were more indications last week that Facebook refuses to allow Twitter to be the sole breaking-news platform. Facebook is said to be working on a breaking-news app called Notify that will contain all forms of content from sources like The Washington Post, Vogue, Comedy Central, Billboard and CBS. Notify is expected to launch as early as this week, according to a piece in The Financial Times.
People Moves: FleishmanHillard named John Saunders to succeed Dave Senay as president and CEO. A 25-year vet of FH, Saunders founded Irish firm FleishmanHillard Saunders in 1990. He's moved from Ireland to FH's St. Louis HQ. – Rogers & Cowan named Mark Owens CEO. Previously, Owens was chief revenue officer at Corbis. He succeeds Tom Tardio, who left in July after 27 years. Tardio retains the title of chairman emeritus. – Congrats to our friend Stephen Macias, SVP and LGBT practice leader at MWW PR, honored in LA last week with the PRism award for outstanding achievement in public affairs. Rogers & Cowan CEO Mark Owens.
This article originally appeared in the November 9, 2015 issue of PR News. Read more subscriber-only content by becoming a PR News subscriber today.