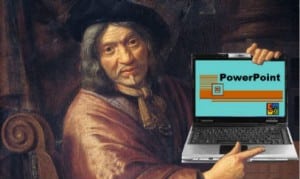 "Talk about SlideShare all you want," said Greg Swan, SVP of digital and interactive at Weber Shandwick during a presentation today at the PR News Next Practices Conference in San Francisco. "But PowerPoint is the most important communications tool conceivable to modern man." Yet, for some reason, many communication professionals still don't know their way around presenting a basic deck, let alone putting one together.
Swan provided three elements that every effective PowerPoint presentation should have. Print them out and blow away the C-Suite at your next quarterly meeting.
1. Story arc. Even if you're presenting on the latest social-media metrics, give your deck a narrative flow. Anecdotes work; straight analytics will bore your colleagues.
2. BIG visuals. Time and again, it's been proven that people engage with visuals far more than with text. Employ infographics to show off impressive numbers: They will resonate much more effectively than a string of numerals on a screen.
3. Context, not content. When putting together your PowerPoint, focus on why this information matters to your audience, whether it's your interns or the executive board. Nothing makes people's eyes glaze over faster than being inundated with seemingly irrelevant information.
Follow Lucia Davis: @LKCDavis.